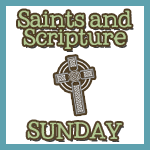 Matthew 21:9
Those preceding him as well as those following kept crying out:
"Hosanna!
Blessed is he who comes in the name of the Lord!
Blessed is the kingdom of our father David that is to come!
Hosanna in the highest!"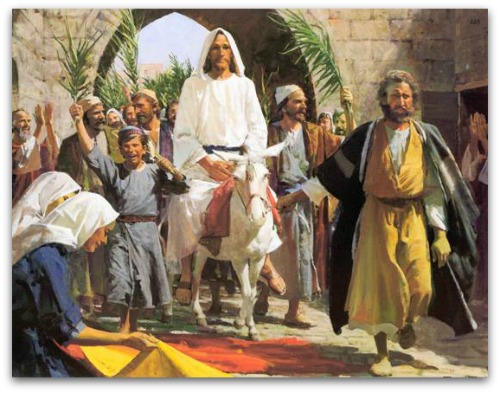 This week marks one of the most important times in our Church's liturgical year. I'm disappointed in myself, because, much like Advent, I find myself in a whirlwind of activity, when I'd rather be moving a little slower, spending time in quiet contemplation. Instead of being at Mass, I'm in the throes of planning a birthday party, preparing for a new baby, and working a LOT!
Reading through today's readings, (since I'll be sleeping during Mass tomorrow) I began to tear up. We've heard the story of the Passion so many times – sometimes it seems we know it by heart. Even though it's a familiar story, I always find something new that touches me each time I hear it or read it.
This weekend, this passage stood out to me:
he said, "Abba, Father, all things are possible to you.
Take this cup away from me,
but not what I will but what you will."
It reminds me of the Annunciation, last week, and Mary's fiat. Even filled with trepidation about what the future held, Mary was resigned to God's will. Jesus expresses his fear as well, but faithfully follows God's plan.
Trying to teach your children about Palm Sunday? Bible Zone has a long list of Palm Sunday crafts. My friend Lacey from Catholic Icing has an adorable donkey craft to share, along with many other ways to celebrate this Holy Week with your family.
This is an amazing time for our members coming into the Church during the Easter Vigil. I'll be keeping you in my prayers. Have a blessed Holy Week!



Looking for more faith filled posts? You'll find me visiting Soli Deo Gloria,Jump Tandem,Scripture and a Snapshot, Sunday Snippets, Spiritual Sundays, Hear it on Sunday, Playdates with God,Titus 2sday,On Your Heart Tuesday,Domestically Divine Tuesdays,Gratituesday,Word Filled Wednesdays, Walk With Him Wednesdays, iFellowship, Planting Mustard Seeds, and Good Morning Girls.