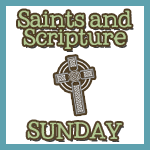 It's October again, and one of my favorite times of the year. The weather is cooler, leaves start to change, and everyone starts settling in for the fall.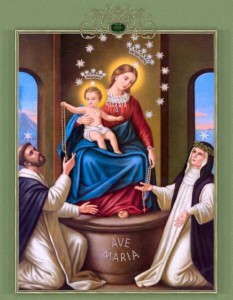 October is also the month of the Rosary. I've always been fascinated by this centuries old prayer, even when I wasn't Catholic. I loved looking at my friends' beautiful beads, and later, adding to my own collection. Now, with many small children in the house, I use an electronic app most often, so I can listen while I work.
The Feast of Our Lady of the Rosary has been around since 1573, when it was instituted thanking God for the victory at Lepanto. Much of the success of the widespread use of the Rosary can be credited to St Dominic and his followers.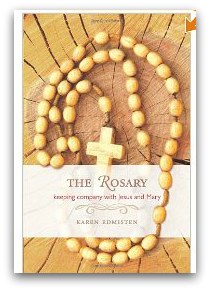 Ready to learn more about this beautiful set of prayers? We have this book from Karen Edmisten, to get you started. You can download MP3s of the Rosary for free from Catholicity, or download a Rosary app to your iPod. I prefer Rosary Miracle Prayer – Pauline Books and Media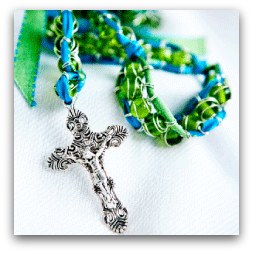 Keeping it traditional? I saw these beautiful Rosaries mentioned by Sarah Reinhard, and am making a Christmas wish list for myself.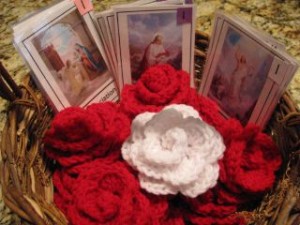 If you're looking for ways to involve your children in the Rosary, start here with my post about Rosary Crafts over at Catholic Mothers Online, or check out my Pinterest Adventures in Faith Board.
What about you? How do you say the Rosary? In quiet solitude, as a family, or on your commute?
Ready to join in? Grab the button, stick it in your post, and sign the link up! It's that easy! Please spread the faith filled love by visiting other participants and commenting there too.