This Lenten season, I'm keeping it simple.
At home,I'm overwhelmed most days, barely having time to breathe. While lofty goals for Lent are admirable, I want to work on something I KNOW I can accomplish.
I've got three things in mind, keeping in line with the prayer, fasting and almsgiving tenets of Lent.
For fasting, I'm going to tackle my third Whole 30. I made this journey last year and felt wonderful. Slowly, I've been slipping back into crappy eating habits.
My plan for almsgiving is a two-pronged approach. I'm gathering up all of my baby supplies and passing them on to a family in need. I'm also going to be more intentional about purchases (do we REALLY need this?), and about giving more to our Church.
Prayer is a challenge for me and my personality. I'm not one to sit quietly — I'm always on the go, so prayer is something that comes quickly in the wee hours of the morning, or when I've fallen into bed at the end of the day.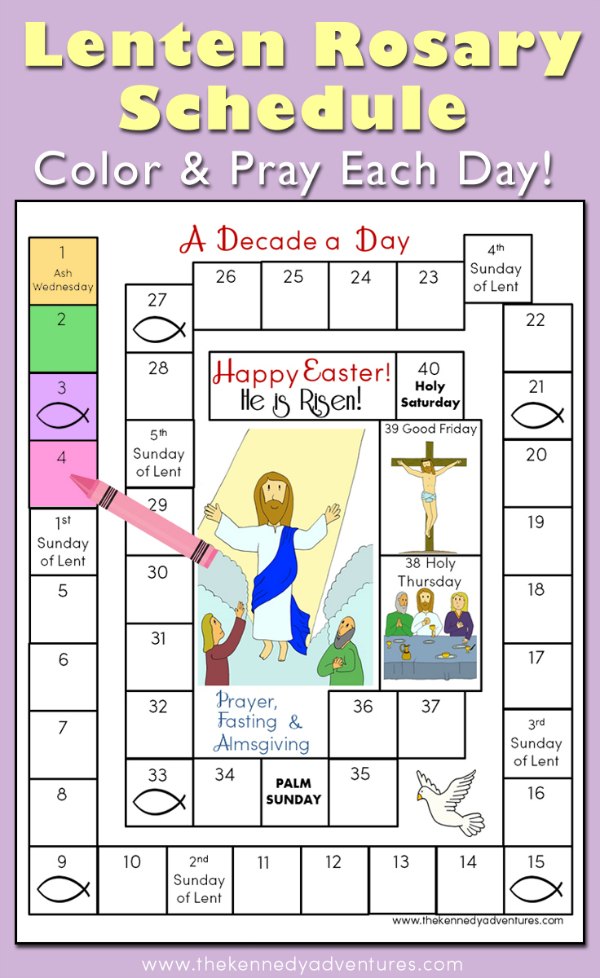 This Lent, we're going to use our Printable Rosary Cards and dedicate time every day to saying a decade of the Rosary together. Using these cards gives the children a visual picture of each Mystery, and we'll take time to read the Scripture passage and discuss some talking points, too.
By the end of Lent, we will have made it through all 20 Mysteries of the Rosary at least one time, with lots of time for diving in deep and discussing the life of Jesus.
Want to join me?
I created a handy schedule for you and your children to color in each day.

I'll be sharing some of our progress over on Twitter, Instagram and Facebook showing our Rosary cards in action. If you'd like to join in, encouraging a family prayer time during this Lenten season, leave me a comment, tag me on Instagram or Twitter (@diannakennedy), or drop a comment on our Facebook page.
I'd LOVE to see how your family Rosary looks!