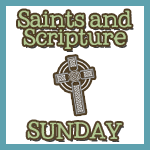 1 Corinthians 4:15
For if you were to have countless tutors in Christ, yet you would not have many fathers, for in Christ Jesus I became your father through the gospel.
I have a deep and profound respect for all priests, and am always fascinated to know more about how they chose to answer God's call to this amazing vocation of service to others.
Since my return to Catholicism, I've been blessed to have a wonderful priest, right in my very own parish. He was kind enough to take time out of his busy day to answer my questions about his life.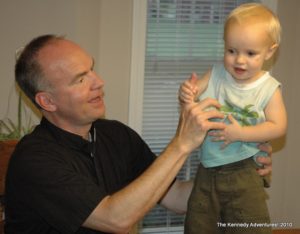 Father Scott Wimsett hails from Nelson County,  a staunchly Catholic area just south of Louisville. He states he felt the call to the priesthood as early as second grade. After high school, he applied with the Archdiocese and later attended the seminary at St Mary's in Baltimore.
A priest's training usually begins with a four year college degree, followed by four to five years in a seminary program. For priests that choose a religious order, an additional year of study may be involved.
Diocesan priests promise obedience to their local bishop. Part of that obedience is the parish assignments of priests. In Father Scott's 23 year career as a priest, he has been a part of ten parishes. In our Archdiocese of Louisville, priests are assigned to a parish for a term of six years. Under certain circumstances, these terms may be renewed for a second six year term.
We've been blessed to have Father Scott at St Francis Xavier for 12 years. During his tenure, he has seen our parish grow by leaps and bounds, from 350 families, to over 700. He has also overseen the immense project of building a new church, with capacity for over 600, and just kicked off the celebration of the 165th anniversary of our parish. He acknowledged that the hardest part about building our new church was asking folks for money!
His typical day begins with silent, reflective time for prayer, and reviewing Scriptures for the day's Mass. After Mass is complete, you may find him returning phone calls, attending meetings, visiting the sick in hospitals or nursing home, helping parishioners prepare for baptisms or weddings, or assisting families with funeral preparations.
Personally, during that tenure, Father Scott (or "Father Scotch" as Rachel is apt to call him) has been immensely important to our family. He has counseled me through a rocky divorce and annulment, all the way through to the other side, marrying Brett and me. He confirmed my husband, as well as my oldest daughter, and baptized all of the Kennedy Kaboodle. Brett will soon be seeing him as a spiritual advisor, and I'm hoping that one day, he'll preside over the weddings of my daughters.
As we prepare for one of the most important seasons of our Church, take time to thank your parish priest for his work, and for answering God's call to serve. Invite him over for dinner, send him a thank you card, and include him in your prayers.
Be sure and stop by on Ash Wednesday, when I'll be publishing my annual lofty goals for Lent.
Link up today and join right in!