My affinity for angels ebbs and flows. Sometimes, I'm too busy to think about them. Other times, like when the boys fail to break their legs from jumping off the top of the playground equipment …. I'm aware of their presence.
Beside my own guardian angel, and those protecting my immediate family, my all time favorite is Saint Michael. His feast day is up this week, on September 29th.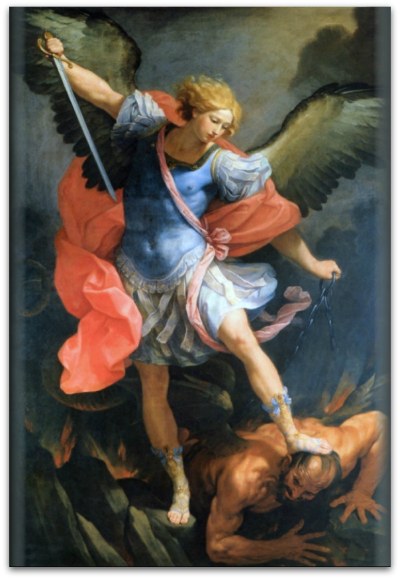 You'll see him mentioned in Scripture in Daniel, as well as Revelation. Our Divine Tradition gives Saint Michael four roles:
to fight against Satan
to rescue the souls of the faithful from the power of the enemy, especially at the hour of death
to be the champion of God's people, the Jews in the Old Law, the Christians in the New Testament, and the orders of knights in the Middle Ages,serving as the patron of the Church
to call away from earth and bring men's souls to judgement
In my home, we say the St Michael prayer at bedtime. It makes Rachel a little uneasy, but the boys ask for it by name.
Saint Michael the Archangel,
defend us in battle.
Be our protection against the wickedness and snares of the devil.
May God rebuke him, we humbly pray;
and do Thou, O Prince of the Heavenly Host –
by the Divine Power of God –
cast into hell, satan and all the evil spirits,
who roam throughout the world seeking the ruin of souls. Amen.
Another great reason to learn the Saint Michael prayer? It was recommended by Blessed John Paul II as a prayer for our Church.
Ready to teach your small ones about my favorite angel? Head over to Paper Dali, for a printable St. Michael paper doll. Don't forget to stop by Catholic Online for St. Michael's Fun Facts card.
Have a teenage boy preparing for Confirmation? Learning about Saint Michael would keep any young man's interest. I'm bookmarking these Saint Michael medals for when my boys get older.
What about you? Do you have a devotion to Saint Michael, or some of the other angels?