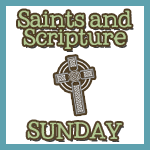 It's time again for Lent – our season of preparation, and a chance to deepen our relationship with Jesus.
I like to look at it as almost a Catholic New Year – to plan a goal and attain it, rather than simply giving up chocolate.
Without further ado, here's my list.
1. Potty Mouth Pare Down
To those who know me in real life, they can attest that I can sound like a sailor. And yes, I always shoot for this during Lent, and generally fail miserably. Let's make this the year of successfully curbing my potty mouth.
2. Rosary Recitation
I'm not setting my sights as high as my friend Sarah Reinhard, but I'm aiming for a Rosary three times a week. I wish I were like my friend Peggy Bowles, and could recite the Rosary while I run, but I'm usually panting too hard, and can't concentrate.
3. More Adoration
Lent is 40 days long, or approximately six weeks. I'm shooting for attending Adoration three times during this period. That's just once every two weeks, so a very easy goal, one would think.

4. Pro Life Work
As part of 40 Days for Life Louisville, I'll be joining with my friends in prayer outside of one of Louisville's abortion clinics. I'm petrified, but proud to be a part of this vital ministry for the first time.
5. Novice at Novenas
I've often started novenas, but never finished them. We're in March, which means I want to finally complete an entire novena to St Joseph. St Dymphna has been on my mind as of late, so if I get the St Joseph prayers done, she's next on the list.
5. Reading, Reading, and more Reading
I'm going to be busy with the reading involved with facilitating the Why Catholic group I am in, but I wanted to check another book off my list as well. I'm going to tackle The Story of a Soul
during these next few weeks.
6. Stations of the Cross
I always plan to do this during Lent, and never remember. I'm shooting for once, and hopefully twice this season.
7. World Famous Fish Frys
Think abstaining from meat on Fridays is a thorn in my side? Hardly. I love fish of all kinds …. fried, salmon, tuna, sushi, you name it! Add in the sheer fun of Catholic Fish Frys and Fridays are truly days I look forward to, not dread. I'll be attending a couple of these, as well, and inviting my friends along!
What about you? Have any Lenten plans? Link up and join in!