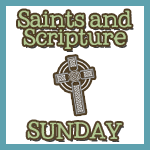 Since today is my husband's birthday, I looked for a scripture for him for my spotlight today.
1 Peter 3:7
Husbands, in the same way be considerate as you live with your wives, and treat them with respect as the weaker partner and as heirs with you of the gracious gift of life, so that nothing will hinder your prayers.
My real life girlfriends will agree with me that my husband is one of the most considerate, generous and respectful men that I've ever known. He puts up with my abrasive personality, and is always my biggest cheerleader. He reminds me that our children, although wild as Indians some days, are our most precious and gracious gifts from God.
You may not read this for a week or more, but Happy Birthday, Brett! I look forward to spending many more with you!

Saint Brendan has to be my featured saint today, as he is my husband's namesake. This saint must have been tailor made for Brett, as he loves to travel, and is an avid boater and scuba diver.

There are many legends surrounding this Irish saint of the 5th century, with some suggesting that he may have been the first person to discover North America. He is known as the patron of sailors, boatmen, mariners and travelers.

Join in today, and share some of your favorites!