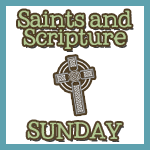 No, it's not Sunday, but it's one of the most important days in our Catholic calendar: Ash Wednesday.
As I've grown older, and hopefully more mature, this day means so much more to me than 'What are you giving up for Lent?"
Instead of forgoing chocolate, or Cokes, I like to use Lent as a time for introspection and spiritual growth. Trust me, I'm not always successful, but hopefully, by posting my intentions for Lent, I'll be more accountable.
1. Attend at least 1 Daily Mass during the week. I'm not always able to go to Mass on the weekends, due to my work schedule, but I love the intimate, smaller Daily Masses.
2. Eucharistic Adoration — I'm not very good at attending this, either. I have a hard time not 'doing' anything, and just being. Lent is 40 days long … I'll set a goal of going to Adoration at least 4 times.
3. Stations of the Cross: Yet another beautiful Catholic tradition I don't take advantage of nearly enough. Goal is 3 separate Stations of the Cross.
4. 40 Bags in 40 Days: I saw this mentioned first in the comment section of Faith and Family Live, then found this wonderful blog that explained it a little more in detail. Basically, you rid your home of 40 bags/boxes of unnecessary stuff during the 40 days of Lent. My tally thus far is 5: 2 boxes of clothing to a work colleague expecting her first boy, 2 boxes ready to go to Goodwill, and 1 box to my best friend Laura, to pass along to another friend. 35 more to go!
5. Finally finish A Mother's Rule of Life.
6. Decrease time on Facebook — rule for Lent is no Facebook Games!
7. Down with cursing! Most of my friends know I have a horrid potty mouth. I really need to get this under control.
8. More exercise — 3 to 4 times a week. Some may think, "why in the world is she listing exercise in the middle of a spiritual list?" Trust me — it puts me in a much better demeanor, and then I could get my book finished!
I'll add a MckLinky, so you can let me know what your Lenten plans are as well! Have a blessed Ash Wednesday!