I stumbled across the BEST Catholic app ever made about 18 months ago.
No, not Facebook, Candy Crush or Pinterest.
This app enriches my spiritual life every.single.day. I'm still mind-blown about the tools hidden inside this amazing app.
This jewel? Laudate – the perfect resource for Catholic moms on the go.
We are extraordinarily blessed to be able to send our children to Catholic School. Daily Mass kicks off at 8am, right after school drop off ends. (super smart parish, I tell you!)
Hundreds of times, I have taken the rugrats into school and started heading back to my car when I hear those Church bells ring. It really is like Jesus is calling me to come to Him. I turn my patootie back around and head into church to really start my day with my heart and soul being nourished by the Body of Christ.
I don't process the Mass readings that well by simply listening, so I whip out my trusty smart phone. With one tap of the Laudate button, I find the daily readings so I can follow along.
Easy peasy lemon squeezy.
I tried the Magnificat for a few months, but always managed to misplace it and then I'd be stuck. I use it similarly in Adoration, particularly to help me pray the Rosary.
You see, I just returned to the Catholic Church 3 years ago.
During my childhood, the Rosary was not a regular staple, so I am still learning how to pray with this beautiful gift from our Blessed Mother. I LOVE this app because it has an interactive rosary that walks you through each bead.
For a Rosary novice like me, it is sheer perfection.
And prayers? Whoa! Any Catholic prayers you could possibly want are literally right at your fingertips. Need to find a Bible Verse? Bam! The Laudate app has you covered.
This completely FREE app is available on iTunes. Android folks, don't sweat it. It's in the Google play store,too
Laudate is my very favorite, go-to Catholic app.
What about you? Do you have a Catholic app you can't live without?
Share with us in the comments, and I'll be on the lookout for more great ideas to add to my spiritual app arsenal!
This post is part of the 31 Days of Resources for Catholic Moms : tools to inspire and challenge you in your Catholic faith. Check out all the posts or sign up to get them delivered in your email.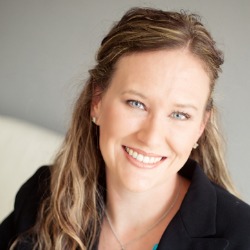 Andrea Boring is a happy Catholic wife to David & mom of three. A lawyer by education & web developer/marketing strategist by trade, she spends her days creating gorgeous websites and marketing strategies that work while cuddling her newborn, shuffling her 6 year old twin boys to school & soccer and praising God for her beautiful life. You can find her blogging on Modern Catholic Mom or working her biz at Shine Avenue Creative.