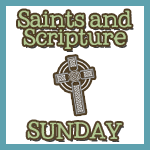 Since I'm traveling this weekend, with some of my very best friends, on a trip to meet new friends, this scripture was very apropros.
A man of many companions may come to ruin, but there is a friend who sticks closer than a brother.
—Proverbs 18:24

I'm here with my best friends Laura and Angie. I've known Laura for about 14 years. We met at work, and actually became better friends after I got fired! She's seen me through 4 children, a divorce, a new husband, multiple jobs, 2 pregnancies, and so much more. She's a second mother to my children, and in addition to my husband, she's helped me survive these early years with the Kennedy Kaboodle. She's actually the first person we told about the twins —- met her after the appointment,and handed her the ultrasound pictures. She was thrilled — I was still in shock. Thanks for being one of the most wonderful friends I could ask for. You've stuck with me through thick and thin, and I love you for it.
Laura, with my sweet baby T
Laura and I, Oct 2008
I'm blessed to have not just one best friend, but two! My best friend Angie and I also met at work about 12 years ago…. she had a job of which I was insanely jealous. Years later, I held the same position, and we were able to work together. She's hysterically funny, a
wonderful writer
, and her marriage is another example to which I hold dear. She and her husband Michael are actually Adam's godparents. We commiserate about raising teenagers, and I'm learning how to handle boys at home with her help.
Angie, with Father Scott and Adam
Angie, reading at our wedding
Known as the patron saint of friendship and integrity,
St Aelred
was a celibate monk in England during the 1100s. He went on to become abbot, and is best known for his work
The Mirror of Charity.
Regarding friends, he wrote:
"A man who can shed tears with you in your worries, be happy with you when things go well, search out with you the answers to your problems, whom with the ties of charity you can lead into the depths of your heart;"
Join in, link up, and be sure that you tell your friends how much you love them!