Do you have a son who loves football? What about hosting a football themed birthday party for boys? Take a look at these fun ideas for decorations, food and drink, as well as activities for a game winning party!
Touchdown!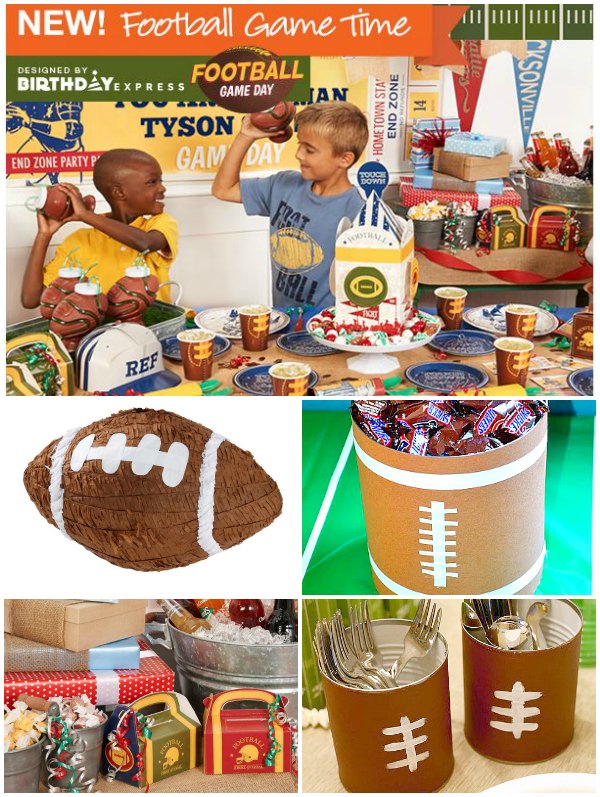 Football Birthday Party Decor Ideas
If your family has a favorite football team, how about decorating with the team colors for fun? You could accent with football centerpieces or themed plates, cups and napkins.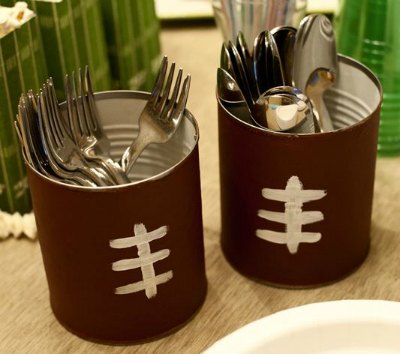 I LOVE this idea of upcycling and decorating cans to hold silverware, and a personalized football birthday banner is sure to be a hit at your party.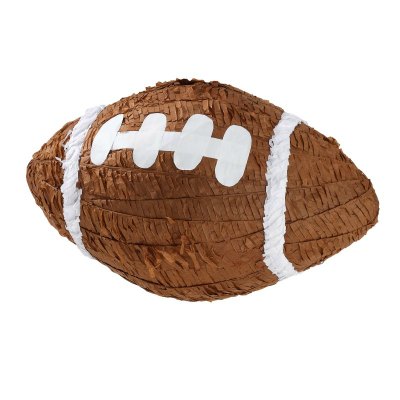 Don't forget a piñata. It doubles as decor and a fun party activity.
You can even go all out with these free printables for water bottle labels, invitations, DIY banner pieces and more!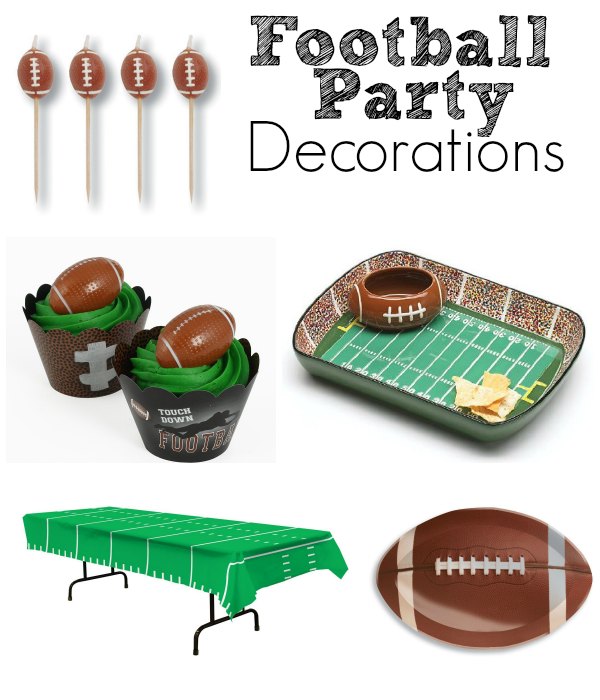 Add these football decor items to your party planning list, too!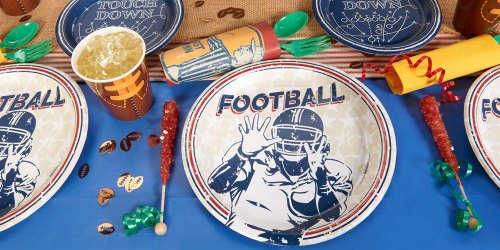 Pressed for time? Don't miss this Football Party in a Box — everything you need to throw the perfect football birthday party.
Football Birthday Party Food and Drink
Ready to serve some fun food and drink at your football birthday party?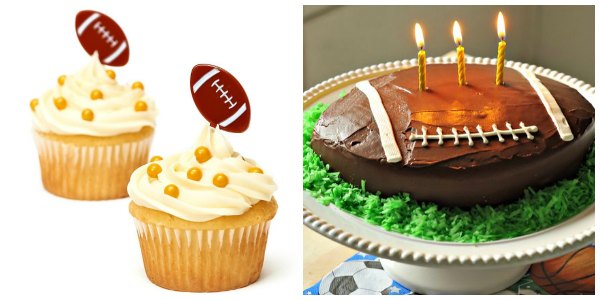 You can make a football shaped cake using this DIY tutorial, or grab a football cake pan.
We like making our own cupcakes for parties — topped with these football picks or football rings, they match the decor perfectly.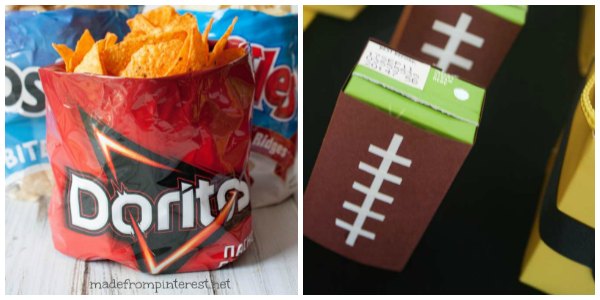 This idea of using chip bags as bowls is so easy, and saves you from washing extra serving bowls, too! These juice boxes look like footballs — so easy, but a great way to keep the drinks themed. You'll just need some brown card stock on hand.
While the kids are waiting in line for food, get them in the football party spirit with fun temporary tattoos!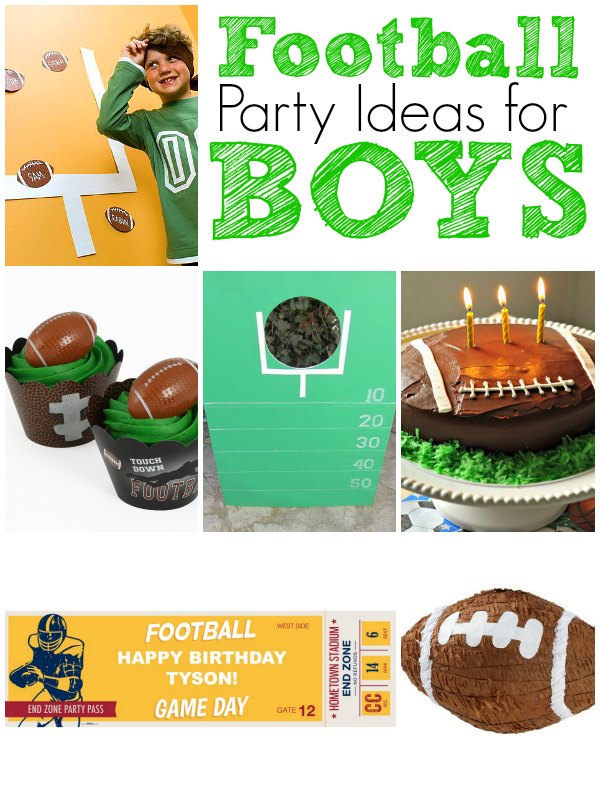 Football Birthday Party Activities
For a football themed birthday party, I ran across lots of fun ideas to get kids (and adults) moving and laughing together!
In warmer weather, take your guests outside and play some rounds of football! You could play Hot Football (like Hot Potato). Have the kids stand in a circle and pass around a football as music plays. When the music stops, the child holding the football is out. Continue until there's only one child left. You have a winner!
If you're partying indoors, take a peep at these ideas for some indoor games for football parties.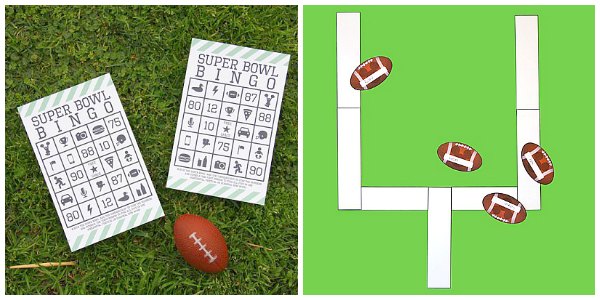 I love this twist on Pin the Tail on the Donkey — setting up this Wall Football would be fun!
Other ideas I found were a fun Football Bingo and even some Football Coloring Pages.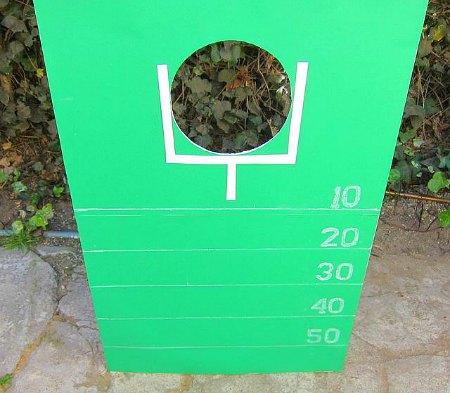 If you're skilled with DIY projects, here's a step by step tutorial on making a mini football toss for your party.
Don't miss the other great ideas we have for boys' birthday parties! We're sharing some of our favorites this week.