Board books are a perfect way to introduce babies and toddlers to the world of reading.
They are virtually indestructible and are great to throw in the car or diaper bag for taking on the road. I don't have to worry about Maeve ripping the pages, since they are made of thick sturdy cardboard.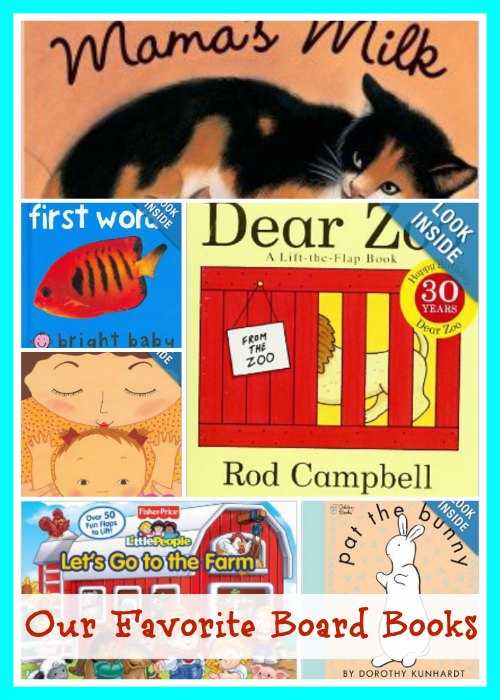 Our Favorite Board Books for Babies and Toddlers
These books are simple, with bright colors and one picture and word per page. I can even hand these to the boys, so they can 'read' to Maeve.
This is a classic, loved in our house for about 10 years.
Karen Katz has a whole series of baby board books. Many are lift the flap, which all of my children have loved.
This series of books from Leslie Patricelli always makes my big kids laugh. It's a great way to teach the concept of opposites to toddlers.
My husband found this book at a children's consignment shop and we've almost worn it out. The book celebrates its 30th birthday this year! It's a great gift to take to a baby shower.
If you're a breastfeeding mother, this sweet book will warm your heart.
Maeve loves this story from Bill Martin, Jr, because the older children love to chime in with the chorus.
Introduced in 1940, this book has been treasured by families for years. It engages all of baby's senses – touch, smell and more.
Lift the flap books are high on my kids' favorites list. I love these editions from Fisher Price – the sturdy designs have stood up well to my rough and tumble brood.
What are your favorite board books? I'd love to add more to our library! Be sure and leave your ideas in the comments.