I'm a firm believer in celebrating a baby's birth — no matter if we're discussing the first baby, or the fifth. Babies are a joy, a gift and a blessing …. what better reason to throw a party?
Have you been tapped to host a baby shower or sprinkle? Here are some great ideas about how to get started.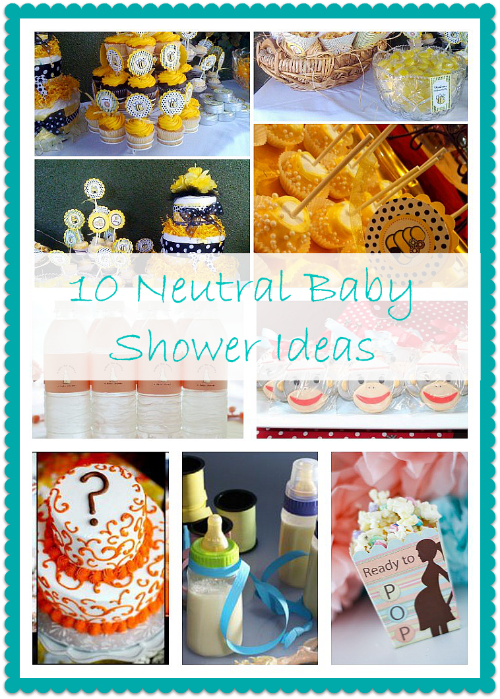 Be sure and ask your mom to be about her plans, as well as the father of the baby. Showers for couples can be loads of fun.
Stumped for ideas for food? Head over to Living Locurto and peep at Amy's list of party ideas. They're sure to get your creative juices flowing.
I love this idea from the Food Network – Baby Bottle Pina Coladas!
While searching through Pinterest, I found an array of amazing themes. Most of these could work for a boy or a girl.
As a lover of all things literature, I adored this beautiful shower. Plus, Golden Books make me think of my childhood. Our bookshelves are filled with Golden Books we've collected, too.
At this shower, all guests were asked to bring a book, and the hostess provided book plates for the guests to customize. Simple, yet sentimental and unique.
2. Owl Themed Baby Shower
Is the mom to be due in the fall months? An owl theme would be perfect, and easily customizable for either gender.
Get started here with Next Stop Baby for ideas for invitations, cupcake toppers and party favors.
Looking for a woodsy variation on the owl theme? Calico and Cupcakes went all out with a beautiful shower, complete with a dessert tree.
3. Fireman Theme
Since I've become a boy mom, I've learned to love fire engines. This theme is sure to be a hit for boy moms to be, or wives of firemen.
The color scheme is easy -red, black, white, and maybe some yellow. Fireman hats are found at most dollar stores – that would be an adorable photo op with the shower guests and mom. Games played at children's fireman parties could be easily modified, too.
There are plenty of fun ideas about food as well …. I'd vote for red velvet cake.

Every mother knows about being pregnant and feeling like you're about to burst. This shower theme has some fun with that 'she's about to pop!' thought.
This delicious popcorn snack fits right in with the theme, too. I may not wait until a baby shower to try this recipe!
This sweet theme would be perfect for a spring baby of either gender. The DIY details make a big impact, and I'm a fan of the soft colors.
This shower idea jumped out at me for the quote on the chalkboard.
That's from one of my favorite children's books, and it's an instant tear jerker.
I love breakfast foods, and the idea of doing a brunch really appealed to me. The milk bottles filled with milk and orange juice would be such a fun way to serve drinks.
Another one of my favorite children's books lends itself to an incredible themed shower. This one is for a girl, but could easily be gender neutral, or boy oriented.
8. Sock Monkey
Who doesn't like sock monkeys? This shower was set off with browns, reds and teal blue, along with vintage toys. Perfect for a gender neutral shower!
9. Honey Bee Shower
No demure pale yellow here! I LOVE the bright yellow, black and white color scheme, as well as the fun honey theme.
10. Gender Reveal Party
When I was pregnant the last time around, I made a promise to my husband that we would not find out the baby's gender. When we discovered we were having twins, I wanted to kick myself. I stayed strong, and was thrilled to let my husband announce the sex of the babies in the delivery room.
Nowdays, all the rage is a Gender Reveal Party – parents find out the gender via ultrasound, and let the guests in on the big secret during the party. I love the bright gender neutral colors!
You don't HAVE to have games at your party, but I ran across some ideas that I'd love to see at a shower. You could assemble 'baby' pictures from photos of mom and dad, drink beer from a baby bottle (see why the dads get invited?) and pin the sperm on the uterus.
If you don't want to embarrass your mother in law, you could stick to a more traditional wishes for baby activity, or for crafty types, decorate onsies for the new baby.
Am I missing a theme that you love? Leave me a comment and link up to your favorite party idea!