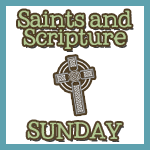 Luke 23:42-43
And he was saying, "Jesus, remember me when You come into Your kingdom! And He said to him, "Truly I say to you, today you shall be with me in Paradise."
I've been 'officially' Catholic for about 17 years now. I've been to plenty of baptisms, some weddings, but never a funeral.
Not until Friday.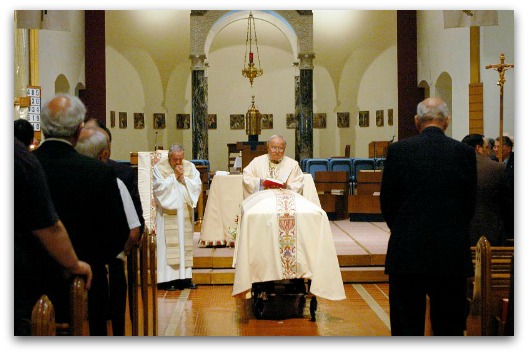 Brett and I loaded up the children for a noon Mass with my favorite priest, and I texted my friend Angie on the way to meet us there. After arriving, and saying hello to Father Scott, he informed me that there was a Funeral Mass that day. In his parish, they have the Funeral Mass at the regularly scheduled Mass time. Since I'd driven across town, and dragged Angie out of the house, I decided to stay.
I'm so glad I did.
I'll be the first to admit that I do NOT deal well with death and dying. Ironic for someone who has been a nurse as long as I have, but it's true. It makes me uncomfortable.
On this day, I was able to appreciate the beauty found in death, as odd as that may sound. As a spectator, I was able to watch the family of a woman come together and celebrate her life. They found comfort and grace in her faith, and our belief that she will be reunited with Christ in heaven.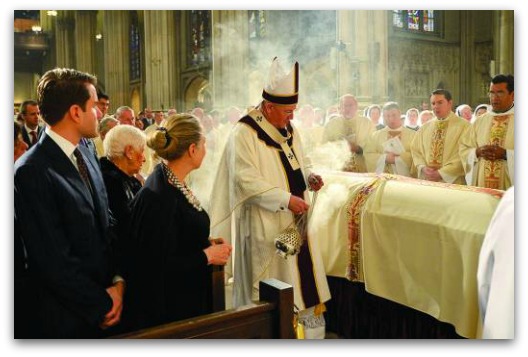 Our tradition of a Funeral Mass was amazing, from start to finish. I cried at the first reading, Proverbs 31, thinking of what a huge task is laid out before us as a wife and mother. I cried again during the homily, when Father Scott likened the Beatitudes to our challenges as mothers. And then, I sobbed during the Absolution, when a priest annoints the casket with incense, and says this beautiful prayer:
May the angels lead you into paradise: may the martyrs receive you at your coming, and lead you into the holy city, Jerusalem. May the choir of angels receive you, and with Lazarus, who once was poor, may you have everlasting rest
Watching the procession out of the church, I was touched by how this woman touched so many people. She didn't invent the iPhone, or win the lottery, but led her life as a godly woman, wife and mother.
The funeral was a reminder to me to focus on what is truly important in our lives — namely, our relationship with Christ, and those dear to us. I may not ever be filthy rich, or wildly successful, but if I can live my life as God intended, surrounded by people I love, I've done a great job.
Ready to join in Saints and Scripture Sundays? Write your post, include the button or link back here, and fill in your information below. It's that easy! Be sure and visit other participants to spread the faith around!

Looking for more faith filled posts? I'll be linking up to Scripture and a Snapshot, Sunday Snippets, Spiritual Sundays, Hear it on Sunday, Word Filled Wednesdays, Walk With Him Wednesdays, iFellowship, Planting Mustard Seeds, Good Morning Girls, Inspiration Fridays and Journeys of Faith Fridays.