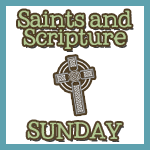 John 15:11
These things I have spoken to you so that My joy may be in you, and that your joy may be made full.
Brett, Rachel and I recently took a field trip to Virginia/Washington, D.C. Before we left, I told Brett I was only concerned about seeing ONE thing in the area. I wanted to go to the
Basilica of the National Shrine of the Immaculate Conception. 
 I know that there are so many things to see and do in DC, but this was on my heart. I couldn't be 30 minutes away and not visit.
On the way from Sterling, Virgina, into the heart of DC, I quickly decided that I never want to live in a huge city. Crazy traffic makes my skin crawl, and DC was no exception. I almost told Brett to scrap the whole idea – thankfully, I held my tongue.
As we approached the Basilica, I realized that we were likely to be in time for Mass. That was an added plus for me, since I wasn't able to drag myself out of bed early that morning.
Since the Basilica is near the campus of Catholic University, parking was a bit hairy, and a patience trial for me. Once we parked, I rushed Brett and Rachel toward the doors.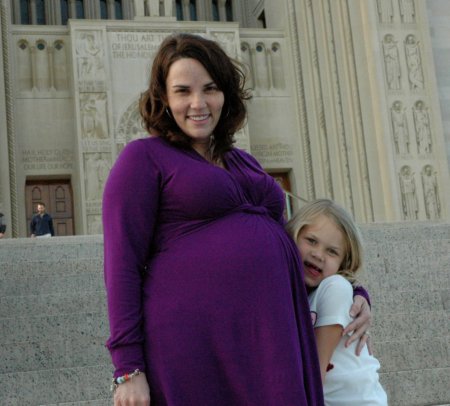 Pictures that we took don't do this incredible church any sort of justice. There are so many things to see – I could have spent a half day here. I had to stop at the huge wooden doors, to see the scriptures and prayers carved there.
As we walked in, I was struck by the immense size of the cathedral, and was amazed by all the people there. As we made our way to our seats, I noticed a seminarian leading a tour group through the Basilica. He looked at me, and smiled — and I started to cry. As the mother of boys, priests (especially young ones) hold a special place in my heart. I appreciate their sacrifice and service to our Church. I can't help but think about how proud I would be if one of my boys were called to that vocation.
We made our way to our seats and got settled in. Attending Mass in a different city is always such a treat for me – surrounded by different people, in an unfamiliar place, yet the Order of the Mass is always the same. Listening to the Monsignor talk about Christ, in his role as the Good Shepard, and watching people walk quietly through the church, I started to cry again.
My poor husband has finally gotten used to me crying during Mass, and no longer wonders if something's wrong. I cry for a million different reasons — the readings touch me, or the music. Sometimes, I'm particularly stressed, and something in the homily stirs me. I've been known to cry because I miss my oldest daughter, or because I'm so incredibly blessed, much more than I deserve.
After Mass was over, we set out to explore the church and all the shrines on the Upper Level. I headed to the Miraculous Medal chapel first, since it's one of my favorite Marian stories.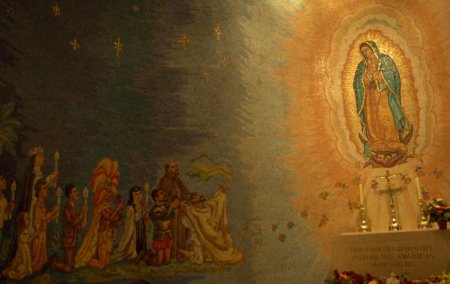 Continuing on, we found an amazing Our Lady of Guadalupe chapel – the walls here are mosaic tile, depicting pilgrims on their way to visit Mary. There are priests, nuns, and even an Aztec Indian carrying candles and kneeling. For Rachel, it was an art lesson and faith lesson, all rolled into one.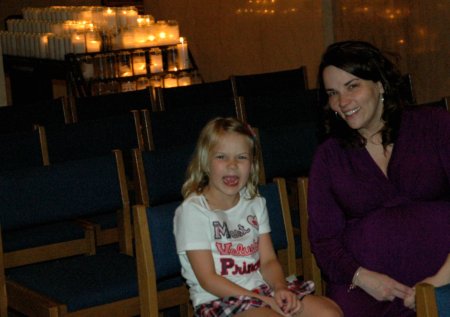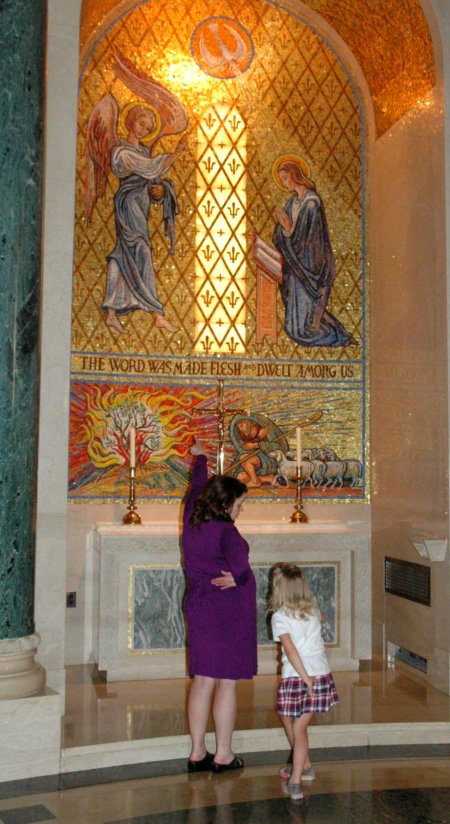 I wanted to continue walking through the upper level, taking my own sweet time to peruse all of the beautiful artwork, chapels, people watch, and more. My spirited child had other ideas. She skipped through the Basilica, uttered the evil words, "I'm BORED!", and just about made me blow my stack. Brett took her off to the bathroom, to let me have some time to myself.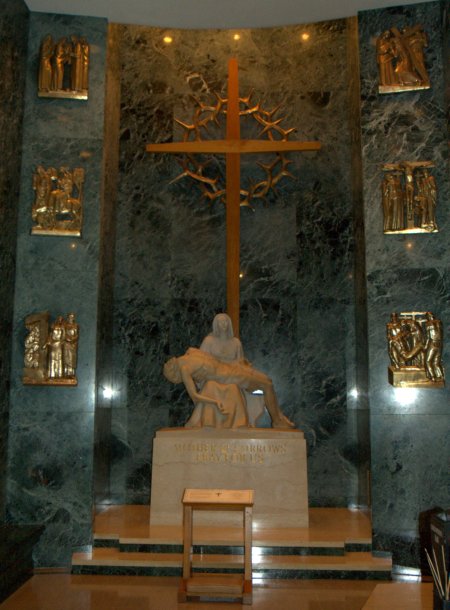 I stood in the chapel of Our Mother of Sorrows, taking in Mary's pain as a mother, when Rachel came skipping back.
"MOMMA! I found the most beautiful thing ever! You have to see."
Sighing, I followed her slowly down the stairs.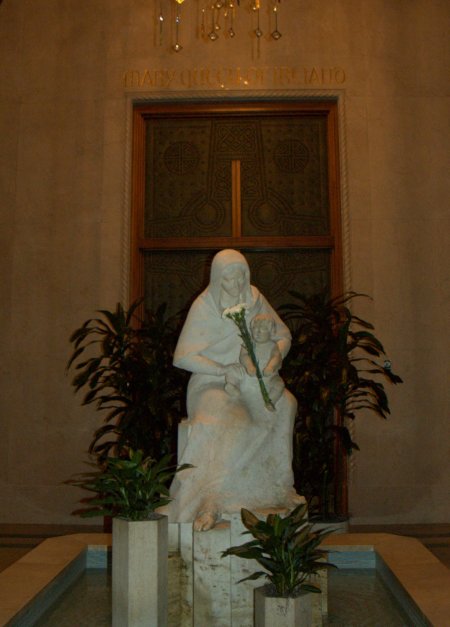 She and Brett had come across the Mary, Queen of Ireland chapel.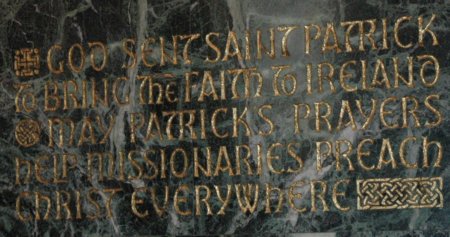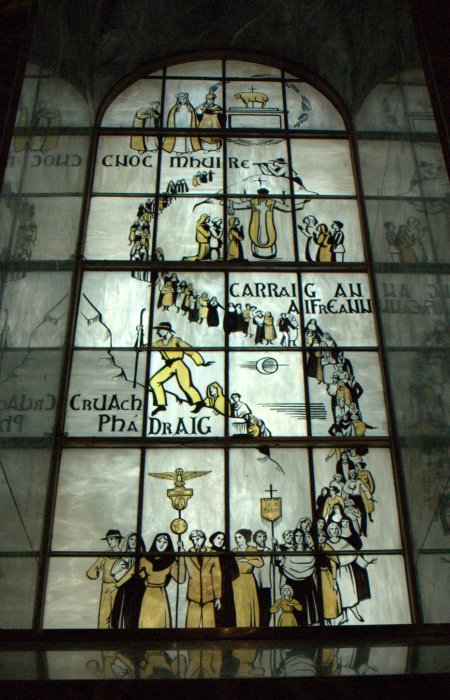 It was a simple chapel, but stunningly beautiful. St Patrick's breastplate prayer covered one wall, along with a map of the Emerald Isle. A Celtic cross covers the door behind Mary. The window to the left depicts pilgrams traveling to revered shrines in Ireland.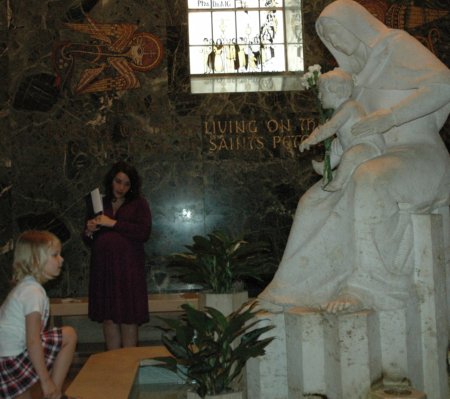 Rachel says, "Look, Mom! Mary is laughing! Baby Jesus must have been doing something silly!"
photo credit
Indeed she was. Our Lady is usually serene, or even sad in art work, but this statue of a mother's love made me cry.It reminded me that I need to look for the joy in being a mother, instead of getting so darn wrapped up in things that simply don't matter.
I took many things away from the 2:1 conference, but by far, embracing the joy in my life is the most important.
Looking for more faith filled posts? You'll find me visiting Soli Deo Gloria,Jump Tandem,Scripture and a Snapshot, Sunday Snippets, Spiritual Sundays, Hear it on Sunday, Playdates with God,Titus 2sday,Domestically Divine Tuesdays,Gratituesday,Word Filled Wednesdays, Walk With Him Wednesdays, iFellowship, and Good Morning Girls.