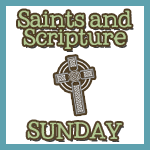 Looking back over this Lent, I don't deem it a complete failure, but I didn't get all the things accomplished that I wanted. I managed to cut the cursing back a bit, made it to Confession and Adoration, but missed out on Stations of the Cross. My 'to be read' pile hasn't budged, and poor St Joseph probably thinks I'm ignoring him.
Instead of hanging my head in shame, I'm moving on and trying to focus on what's important. I TRIED to rearrange my priorities and become a little more Christ like in the process. What did I learn? I need to stop trying to micro-manage every part of my life, and relax. "Let go, and let God", as the old saying goes.
John 20:20
After he said this, he showed them his hands and side. The disciples were overjoyed when they saw the Lord.
Today is a day of great celebration in our Church, and for Christians everywhere. I'm simply saying, "Thank you, Lord." I'm certainly not worthy.
Have a Happy and Blessed Easter season!