In our Catholic home, we love to celebrate the saints! In spite of the dreary February weather, we're gearing up to celebrate Saint Valentine here in a few short weeks.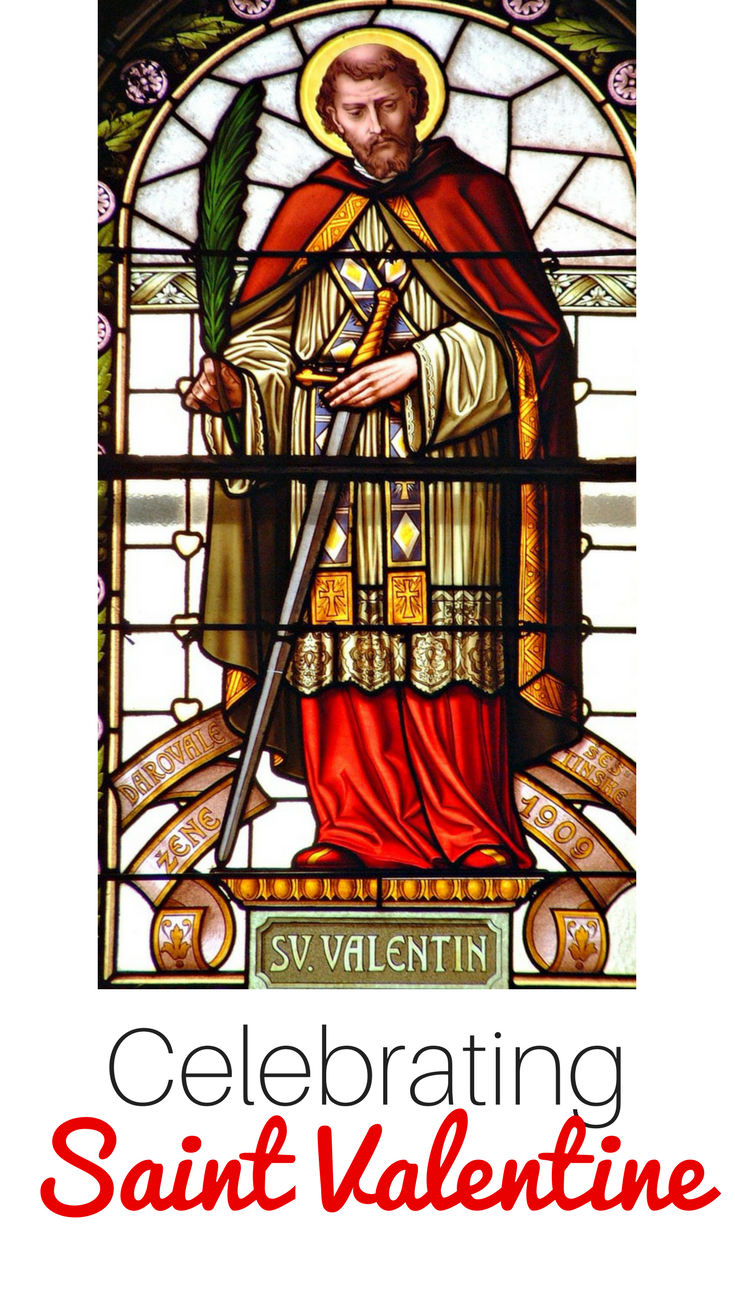 As a family, we keep it simple most months with coloring pages or books. Other times, we get more involved by adding in crafts, activities, printables or even movies.
Gathering ideas and resources can be a little overwhelming for busy moms. I've gathered some of our favorite ways to celebrate — don't feel compelled to do everything. Pick and choose the ideas that work for you.
&
CRAFTS TO CELEBRATE SAINT VALENTINE
Saint Valentine crafts are an easy way to make the feast day super fun for your littles.
These ideas are quick and simple, but still have plenty of fun factor for your children.
Saint Valentine Matchbox from Paper Dali
Valentine Mosaic via Ten Kids and a Dog
I Love You Valentine Craft shared by Waltzing Matilda
Valentine Mosaic from By Sun and Candlelight
Catholic Valentine Craft at Pondered in My Heart
Valentine Necklace Craft over at Adventures in Mommydom
---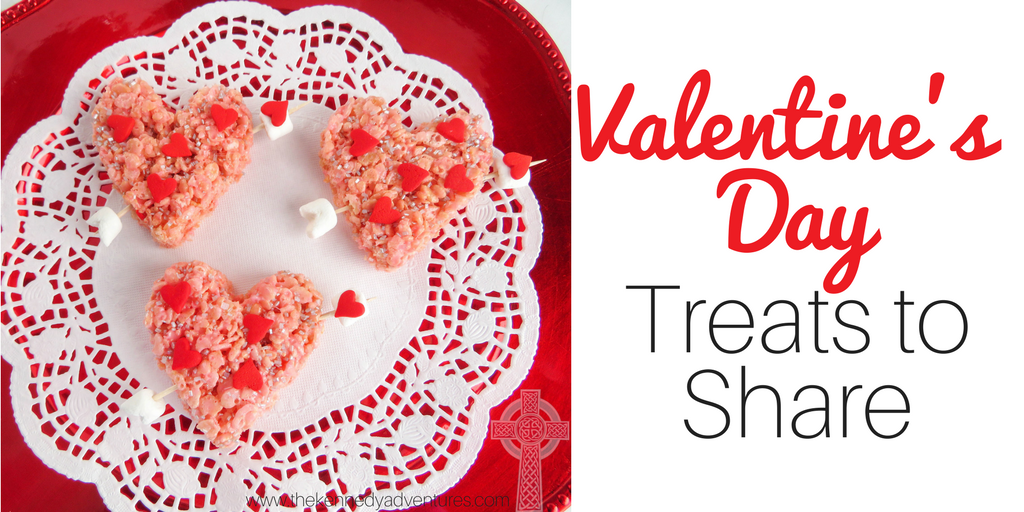 FOODS TO CELEBRATE SAINT VALENTINE
What better way to celebrate and learn about a saint than food?
In our home, saint celebrations and feast days are marked with a special dish, either from the saint's country of origin or that share some connection to the saint's life.
For Saint Valentine, we will be making our favorite treat — Saint Valentine's Day hearts!
Need more treat ideas?
Rice Krispie Mice from Raising Lifelong Learners
Valentine's Day Oreos shared by Happy Brown House
Valentine's Day Hearts via Happy Homeschool Nest
Dessert Pizzas at Forgetful Momma
&
LEARNING ACTIVITIES FOR SAINT VALENTINE
Whether you're a Catholic mom teaching her children at home, or sending them to a local school, you'll want to explore these ideas for learning more about Saint Valentine.
Over at Catholic Culture, you'll find Mass readings for today, along with ideas for celebrating Saint Valentine's feast day with your family.
At Real Life at Home, you'll find a Saint Valentine learning packet
for the whole family.
---
BOOKS ABOUT SAINT VALENTINE
Around our home, we use Catholic picture books to help teach our children about the saints. Each month, I take a look at the saints that we want to study, then create my list. During morning time, we set aside time to learn more.
For Saint Valentine, take a look at some of our favorites:
Saint Valentine
The Story of Saint Valentine
Saint Valentine
Related: Valentine's Day Books for Children
---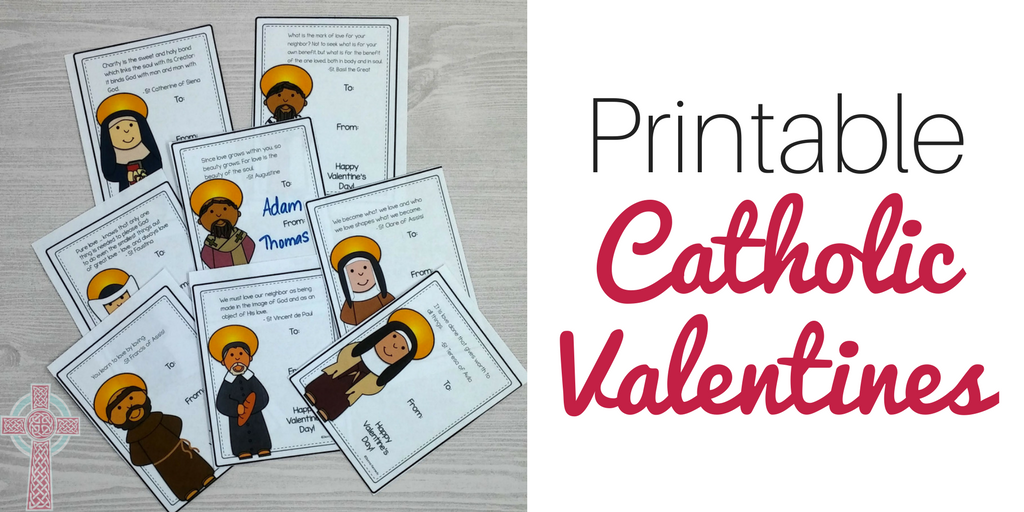 CATHOLIC VALENTINES
Tired of Frozen and Elmo Valentines? Take a peep at these adorable Catholic Valentines. They're perfect for exchanging at co-op or a family get together.
Printable Catholic Valentines (pictured)
Christian Valentines shared by Real Life at Home
Scripture inspired love notes at Faith and Fabric Design
Scripture Valentines from Real Life at Home
Saint Valentine craft from Catholic Icing
Free printable Valentines from California to Korea
A healthy Valentine treat via Catholic Cuisine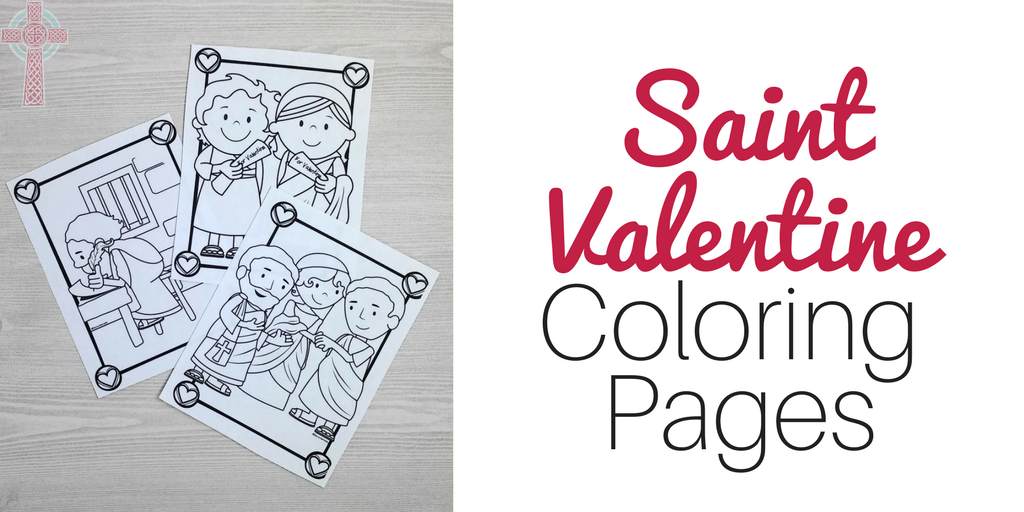 CATHOLIC PRINTABLES FOR SAINT VALENTINE
While you're reading some of the books above, keep little hands busy with some of these Catholic printables.
Saint Valentine Coloring Pages (pictured)
Catholic Saints Flash Cards
Saint Valentine Activity Pack from Forever For Always, No Matter What
Valentine Coloring Page from Look to Him and Be Radiant

Mom tip: Print some of these out and put them in your purse for Mass for your children.
---
I'd love to hear from you — what's your favorite way to celebrate Saint Valentine in your home?