After creating my list of Catholic saints that I wanted us to study in our homeschool this year, I took a look at the resources we had available.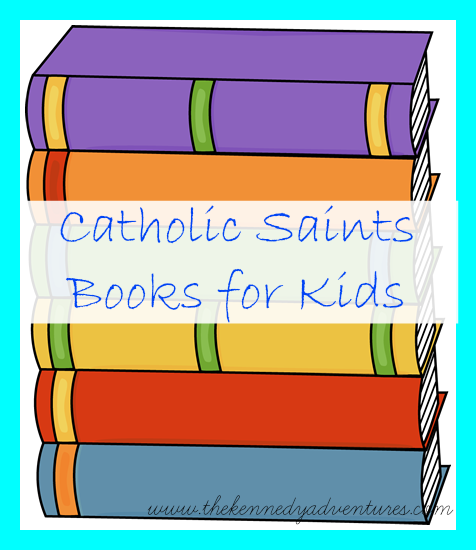 In our home library, we have lots of books of Catholic saints, both for adults and children. I'll share some of my favorites, as well as ones that are on my wish list.
Catholic Saints Books For Kids
I love this book from Amy Welborn, so much we also bought the Loyola Kids Book of Heros, too.
She writes the history of the saints in easy to understand stories, great for kids and an added resource for moms!
I was lucky to find this book at a local used bookstore, wrapped it up and put it under the tree.
This was one of our first resources that we used in our homeschool. I love the beautiful illustrations, but prefer the stories in the Amy Welborn books.
In this book, you'll find over 100 saints, arranged by era (Renaissance, Modern Times, etc).
Ever played Where's Waldo? Imagine that, only with pictures of Catholic saints! This looks like fun!
This book of over 60 most popular Catholic saints, is arranged by the saint's feast date.
This book covers 16 saints, telling their stories as legends, without focusing on dates.
We also have books for specific saints like St Nicholas and Blessed Juan Diego.
Catholic Saints Books for Moms
Part of what I love about our rich history of Catholic saints is knowing that they often faced the same trials and issues that affect us today.
This book points to specific saints to lean on in times of suffering, anxiety or feeling like a failure.
In this resource, Pope Benedict explores and explains the contributions of 17 Catholic saints to our Church.
Sisterhood of Saints:Daily Guidance and Inspiration
In this daily devotional, we explore a diverse listing of female Catholic saints, learning how to be better disciples of Christ.
Ever think that the saints are nothing like you? This book reminds us that saints are women just like us – married, single, divorced and more.
My edition of this book is tattered and dog eared, with notes in the margins and highlighted passages throughout.
Lisa Hendey takes 52 saints and explores them as they relate to our vocation as mothers.
I know this book is geared for teens, but I like the writing style of Colleen Swaim. These stories will inspire Catholics of all ages to live their faith to the fullest.
This beautiful story explores six female saints who deeply influenced the author's life.
Do you have a favorite resource for Catholic saints books? I'd love to hear your ideas.