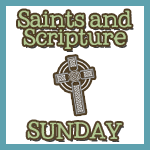 Although I HATE to admit it, I am an anxious person. Not in a have to take Xanax four times a day way, but a little different. My anxiety stems from the need to control EVERYTHING and EVERYBODY. Yet, I have a house full of littles. Anyone see where this could be a problem?
I spend many mornings yelling, "NO ONE IS LISTENING TO ME!" Brett tells me that when I'm so loud, no one can really hear me.
It's a gentle reminder to stop, get centered, and find some sense of calm. I think of Mary, and try to emulate her gentle spirit, but it's just not me. I'm loud and boisterous, most of the time.
When I was reading Calm My Anxious Heart: A Woman's Guide to Finding Contentment
, I was struck by this passage:
God is the blessed controller of all things, the king over all kings and the master of all masters.
1 Timothy 6:15
I'm going to TRY to start working on this. It's certainly a challenge to change my way of thinking, but I found this from Saint Paul.
Whatever you have learned or received or heard from me, or seen in me–put it into practice. And the God of peace will be with you.
Philippians 4:9
Keep your fingers crossed that this works for me!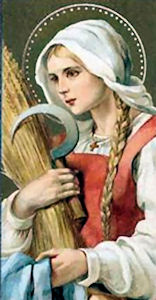 For those of use with domestic responsibilities, how about a little inspiration? St Zita is a real life Italian Cinderella. Sent to work at a young age for a wealthy family, her hard work ethic and cheerful attitude earned her the disdain of fellow employees. She's a marvelous reminder that work is beautiful when done with Christian love.
Blessed Palm Sunday to everyone, and don't forget to stop by and wish the Holy Father a Happy Birthday!