Once you've reached the point where you're reading 10 picture books during storytime, you might want to consider moving on up to some chapter books.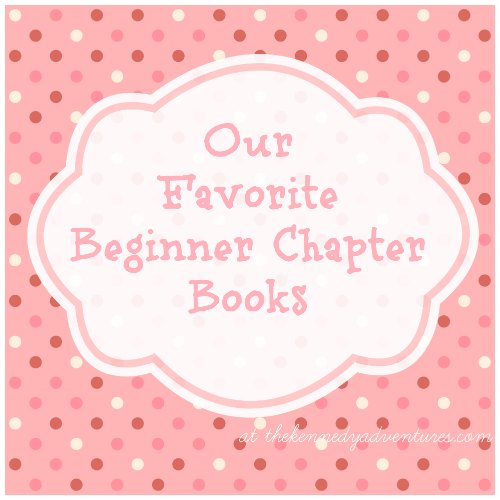 Here are some of our very favorite chapter books for beginners, to get you started:
I've loved the cartoon of Little Bear since Abigail was tiny. The books are wonderful, and a great way to encourage early readers.
Our copy of the Frog and Toad collection is well worn – my boys love to laugh and giggle at Frog and Toad's antics.
The Magic Tree House series is a bit advanced for early readers, but it's a perfect chapter book to read to your children. Jack and Annie travel through time to visit different historical places and eras. It's one of our favorite ways to introduce history to young children.
Arnold Lobel (author of the Frog and Toad series) is a treasured author in our personal library! Your children will love the stories of the wise mouse who escapes a weasel!
Want to teach little ones science? How about these books — fictional stories about non-fiction themes? Mrs. Frizzle takes her class to visit outer space, the desert, exploring the human body and more with her Magic School Bus.
Sweet Frances is a classic — you'll enjoy her antics from being a picky eater to adding a new baby to the family.
The Little House series is a rite of passage for most young girls. I remember hiding away from the hustle and bustle of my cousin's house and devouring her collection over Christmas break. Today, my daughter Rachel enjoys the same stories I loved as a child.
If your children's attention span isn't long enough for the Little House books, start here with the Little House Chapter Books.
Want to introduce your children to detective stories? Nate the Great is an excellent place to start!
Since we've got a big dog in our house, my children have loads of fun reading about the adventures of Henry and his 180 pound dog, Mudge.
What are your favorite beginning chapter books? Be sure and share your favorites in the comments.