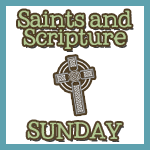 Proverbs 23:9
Do not speak to a fool, for he will scorn the wisdom of your words.
I was all ready to look back through the archives,and do a wrap up of the past years Saints and Scripture Sunday posts, but I got thrown a little off track. Something happened in my personal life, and I'm letting this verse serve as a reminder to me. Instead of getting my feelings hurt about it, I'm trying to develop a thicker skin, and focus on the people closest to me.
I'm keeping short and sweet this week … next week, I'm kicking things off with an interview with my favorite Deacon … we'll learn about the training involved, as well as the various duties for which a Deacon is responsible. Don't forget to add the call to vocations to your prayer list. We need more wonderful men and women in the religious life!
Drop me a note and let me know how your New Year is shaping up!