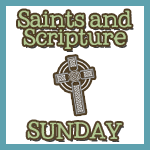 John 2:5
His mother said to the servants, "Do whatever he tells you."
You may have missed it last week
, but I was asked by a group of Catholic Moms to be a small group leader for Why Catholic. After a few hours of deliberating, and deciding that my puny excuses weren't enough, I said Yes. When I get nervous about this upcoming commitment, I'm reminded of this popular saying:
God does not call the equipped. He equips the called.
I have no idea who actually said this, but it works for me, in so many areas of my life. I'm not the most patient person in the world, yet I've been called to a career of service to others in being a nurse. I'm not the most materal woman in the world, yet my home overflows with small children. My family history is marked with divorce, yet I'm incredibly blessed with an amazing husband. I'm hoping that this venture will become a learning experience for me, and will open my mind to new ideas.
Why Catholic is a 4 year program, designed by Renew International, for adult faith formation. If your parish isn't participating, seek out other parishes in your area, and join in. The sessions are small groups, of 8 to 10 members and a group leader. Groups can be men, women, couples, young adults, singles, seniors, or any combination. We will meet in 6 week sessions, with the first sessions discussing the Sacrament of our Church. The first sessions (at least in my area) will start around Ash Wednesday.
As a small group leader, my job is NOT to have all the answers, but to keep us on track, cover all of our areas, and encourage participation among the members. I'm nervous, but so excited to learn more about my Faith, and to connect with other mothers. It's a challenge for all of us to take time away from our small ones, but I'm thrilled to know that we're all working hard to deepen our relationship with God.
Since we're talking about religious education (of sorts),it's time for a spotlight on St Robert Bellarmine. This Italian saint was one of our early leaders of apologetics, defending the Church against the anti-clericals of Venice and the political tenets of King James I of England in the 1500s. He was also the spiritual director of St Aloysius Gonzaga, and helped St Francis de Sales obtain formal approval of the Visitation Order.
How are your plans for Lent coming? It's just around the corner.