It sounds crazy, but in our home library, we have a collection of wordless picture books.
This started a few years ago, when I asked my mother for a copy of Goodnight Gorilla for the kids. I'd noticed it on some 'must read' lists, and wanted to add it to our library.
Imagine my surprise when I opened the book, and found no words. I was disappointed, but shared it with the kids anyway.
I'm so glad I did.
It's one of their very favorites, since it sparks their imagination. We giggle as the mischievous gorilla makes his way through the zoo. The children discuss what the animals might be thinking, and wonder what the zookeeper's wife might have said at the end of the story.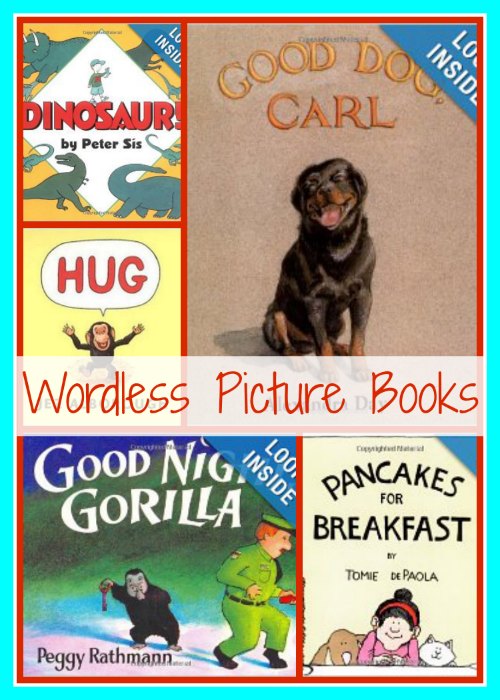 There are many benefits to wordless picture books:
Increases reading comprehension – with no words, your children have to rely on picture clues
Understanding story sequence – without words, the beginning, middle and end of a story is clearer
Increases vocabulary – your child will have to 'search' for the right word, instead of relying on the book
Promoting creativity – you and your child come up with the storyline
Our Favorite Wordless Picture Books
Your children will love this story of a mischievous gorilla who escapes the zoo at bedtime.
It's time for breakfast! We love this Tomie dePaola story about a little old lady who tries to make pancakes.
A duckling is missing, and this anxious mother leads her brood around the pond as she searches.
Maeve LOVES this story of a sweet monkey who just wants a hug from his friends.
The big kids giggle at this story of Carl the Rottweiler who becomes a babysitter.
Your kids may not look at dinosaur bath toys the same, after this tale about them coming to life. My boys love this one!
Have you ever used wordless picture books in your house? What did you think?