Being born and raised in Kentucky, I'm still amazed at all the hidden jewels to find in my area.
For example … I never knew about the Fathers of Mercy. This community is tucked away in Auburn, Kentucky, about two hours from my home near Louisville.
Their primary apostolate is to conduct parish missions and retreats all over the United States, Canada and Australia. I'm amazed at the number of missions available — some are well within driving distance for me.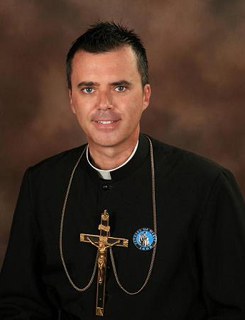 One of the priests you'll find heading up their retreats is Father Wade Menezes, CPM. With degrees in journalism and communications, he's well suited to be a part of Blessed John Paul IIs call to the New Evangelization.
Besides carrying out the Fathers of Mercy's apostolate of parish missions, you may see him on EWTN or writing for Catholic publications such as The National Catholic Register and Our Sunday Visitor. If you missed him on TV, you can listen to some of his homilies on his bio page.
I discovered a vital resource among Father Wade's writings. He has a special affinity for marriages and family life, and has compiled his list of Ten Commandments for Husbands, Wives, Children, as well as guidelines to guard against scrupulosity.
I've printed out the Ten Commandments of a Wife and Mother and filed it away in my Bible. It's a wonderful reminder of our amazing vocation as wives and mothers. We're called to lead by gentle example and I love the guidelines set by Father Wade here.
I'm glad to learn more about Father Wade and the Fathers of Mercy. Hopefully, we'll be able to take a road trip to Auburn soon.
Don't miss the mega-list of Catholic speakers Brandon has collected. Please continue to pray for this wonderful men and women!