Ready to study the Catholic Saints for March? This collection of saints quotes makes it easy to learn more about these holy men and women.
In our house, we use different ways to learn about Catholic saints. We read lots of Catholic books, and we've started to memorize saint quotes, too.
Learning short passages like a quote or a prayer is a wonderful way to cement a favorite saints in your head.Pick a saint and write a quote in your journal, notebook, or on the whiteboard.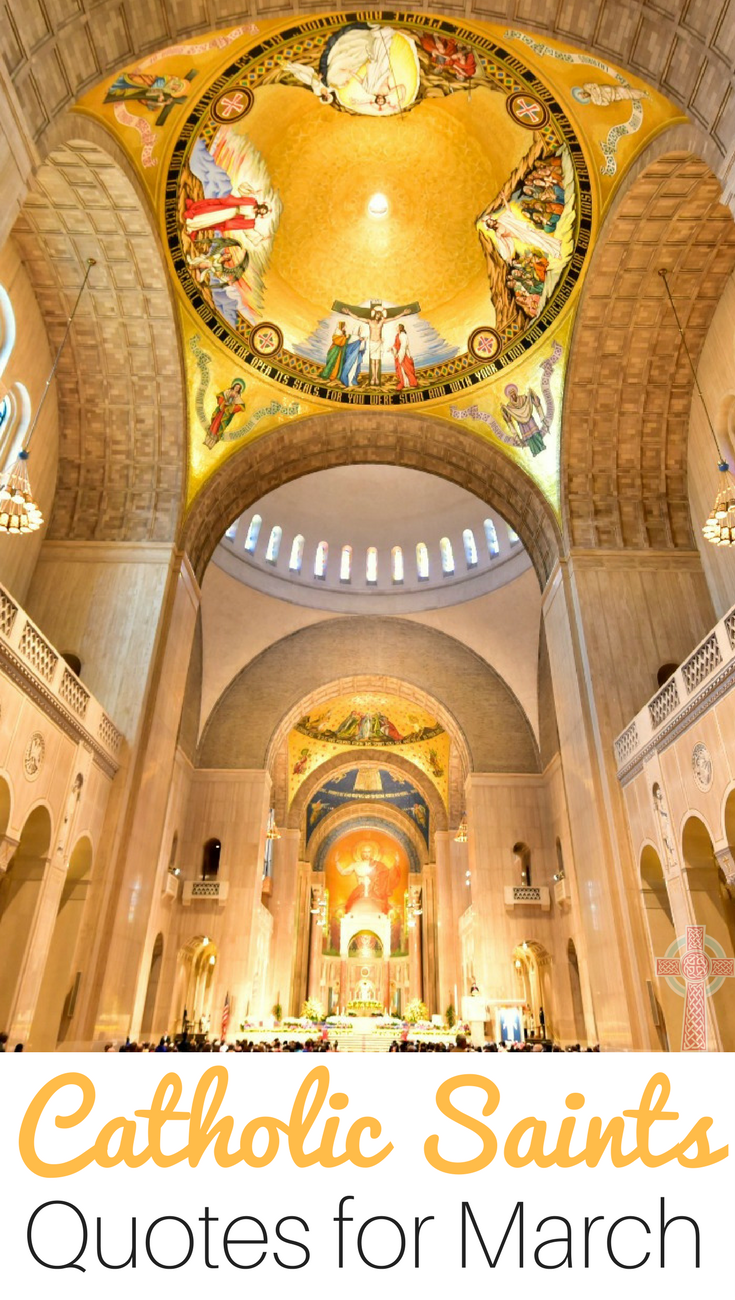 ---
Quotes from St Katherine Drexel
Ours is the Spirit of the Eucharist, the total Gift of Self.
An American saint, St. Katherine Drexel dedicated her life to the poor, giving away millions of dollars. Read more about her here:
Saints and Angels
More Saints: Lives and Illuminations
St. Katherine Drexel, Friend of the Oppressed
Treasure in Heaven: The Story of Saint Katherine Drexel (Glory Stories: Volume III)
---
Quotes from St Colette

If there be a true way that leads to the Everlasting Kingdom, it is most certainly that of suffering, patiently endured.
St Colette was the founder and Abbess of the Colletines Poor Clares in France.
---
Quotes from St John of God
Love the poor tenderly, regarding them as your masters and yourselves as their servants.
A saint who was once committed to a mental hospital? St John of God's story will fascinate you, while his service for the sick and poor will inspire you.
Lives of the Saints: An Illustrated History for Children
The Book of Saints & Heroes
---
Quotes from St Dominic Savio

Nothing seems tiresome or painful when you are working for a Master who pays well; who rewards even a cup of cold water given for love of Him.
This young Italian saint is the patron of choir boys.
Saints for Boys
Dominic Savio: Teenage Saint
Ahead of the Crowd: The Story of Dominic Savio
Golden Legend of Young Saints
St. John Bosco and Saint Dominic Savio
---
Quotes from St Catherine of Genoa
If it were given to a man to see virtue's reward in the next world, he would occupy his intellect, memory and will in nothing but good works, careless of danger or fatigue.
---
Quotes from St Patrick
Christ beside me, Christ before me, Christ behind me, Christ within me, Christ beneath me, Christ above me.
The Lord opened the understanding of my unbelieving heart, so that I should recall my sins.
One of our very favorite saints, Saint Patrick is the patron of Ireland. This March, study more about him with these books.
Saint Patrick
Saint Patrick and the Peddler
St. Patrick
Patrick: Saint of Ireland
St. Patrick's Day
St. Patrick's Summer: A Children's Adventure Catechism
Around the Year Once Upon a Time Saints
Saints and Angels
Lives of the Saints: An Illustrated History for Children
Saints: Lives and Illuminations
Saints for Boys
Twenty Tales of Irish Saints
The Secret of the Shamrock
Courageous Catholic Saints Coloring Book

---
Need saints quotes for the entire year? We've got you covered.
Do you have a favorite quote from a saint this month? I'd love to hear about it in the comments.