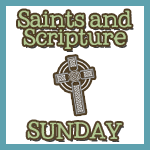 Luke 1:38
And Mary said, "Behold, I am the handmaid of the Lord; let it be done to me according to your word." And the angel departed from her.
Gabriel's visit to Mary for the Annunciation is one of my favorite Bible stories. (Luke 1:26-38) As a mother, I can relate to receiving news of an upcoming pregnancy with excitement as well as trepidation.
Mary is frightened when Gabriel appears to her – I can't say that I blame her! She is troubled by his greeting, and wonders what in the world he could mean.
After he explains God's plan to her, Mary's response, her fiat, is simple. Despite her fears, she's ready – ready to listen, and ready to follow God's will without hesitation.
What is God asking of you? How will you say yes?
Looking for more faith filled posts? You'll find me visiting Soli Deo Gloria,Scripture and a Snapshot, Sunday Snippets, Spiritual Sundays, Hear it on Sunday, Playdates with God,Titus 2sday,On Your Heart Tuesday,Domestically Divine Tuesdays,Gratituesday,Word Filled Wednesdays, Walk With Him Wednesdays, iFellowship, Planting Mustard Seeds, and Good Morning Girls.