Don't stress about All Saints Day! Get inspired with these simple but inexpensive saint costumes for girls. Non-crafty moms, rejoice!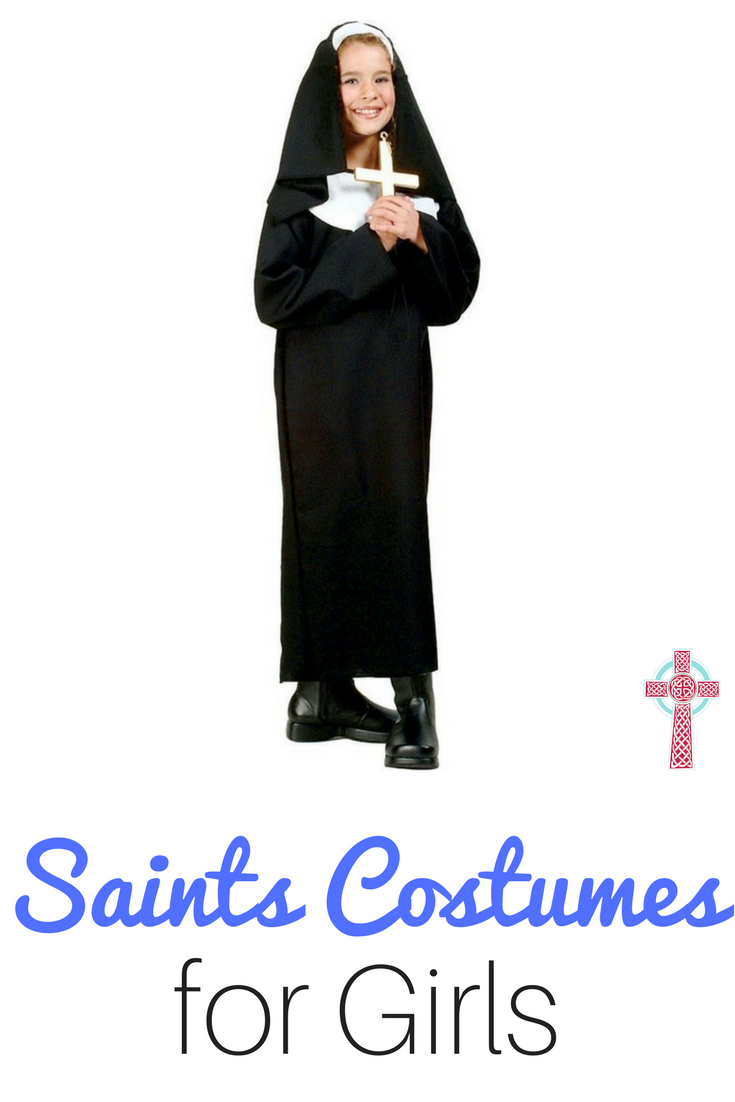 Homeschool mom confession time – I hate discussing costumes with my friends. Someone in the group always has some marvelous idea about how they've been working on creating the perfect saint costume since last year. Meanwhile, I congratulate myself if my children have on matching socks. #truestory
If you're like me, and want a saint costume for your little girl, relax. All of the costume ideas below are basically ready to go. Some may need a simple prop, like adding the stigmata with a red Sharpie. No glitter required, I promise.
Grab a cup of coffee, and start planning.
Nun Saint Costumes for Girls
With a black nun habit, you could be one of the following saints:
St Rita — Don't forget to add the stigmata!
St Scholastica — you'll need to carry a large crucifix
St Faustina — carry a Divine Mercy image and add the stigmata
Saint Katherine Drexel –- you'll need a large crucifix necklace
Saint Margaret Mary -– carry a large Sacred Heart of Jesus image
Saint Catherine of Bologna –- carry an artist's palette (she's the patroness of artists!)
St Elizabeth Ann Seton — grab a black bonnet as part of your ensemble
Dressing as a Carmelite Nun is going to take a little more work. I found this brown robe, which you could piece together with this black hat.
Another (more expensive, but beautiful) option would be this amazing St Clare handmade costume.
Saint Clare of Assisi — Create a monstrance to carry along with you
Saint Therese of Lisieux — Carry roses and a crucifix
Saint Teresa of Avila — Be sure to grab a book and a feather, to denote her position as Doctor of the Church
Princess and Queen Saint Costumes for Girls
If you've got girls, you've probably got princess costumes for days in your closet. Pull the Disney emblem off, and you've got the perfect base for a Catholic saint costume. Add a prop, and you're ready to go. Check the time periods for your chosen saint to make the costume more realistic. (Medieval princess costumes for medieval saints, etc)
St. Agnes of Prague
St. Audrey — Carry a sunflower, her symbol
St. Adelaide
St. Brigid of Ireland -– Carry a St Brigid's cross
St. Clotilde
St. Dymphna -– Carry a sword
St. Elizabeth of Hungary -– Carry a basket with bread and roses.
St. Helena -– Carry a cross (You'll want an early Christian costume for St Helena)
St. Isabella of Portugal
St. Margaret of Scotland
St. Olga of Kiev
St. Ursula
Native American Saint Costumes for Girls
I found loads of unique styles for Native American costumes. Choose your favorite to dress your daughter as St Kateri!
Mary Costumes for Girls
You could start with some simple costumes of Our Lady, or go all out and order an heirloom quality costume. (great for big families)
These costumes from Our Coat of Many Colors are gorgeous and get great reviews:
Our Lady of Fatima
Our Lady of Lourdes
If you wanted to create a costume for Our Lady of Guadalupe, you could start with this pink dress and blue veil.
Laypeople Saint Costumes for Girls
Don't want to be a nun, or a princess? No problem. There are PLENTY of laypeople who were saints, too.
St Gianna Beretta Molla — lab coat, and carry a baby doll
St Joan of Arc — armor
St Zita — carry a broom or a duster
Angel Costumes for Girls
Need a super simple costume idea for All Saints Day? Pull out your angel costumes and head to the party.
Let's hear from you! Have you used any of these saint costume ideas? Share your best tips in the comment section.