The following is a guest post by Misty Nagel
Ever find yourself needing to make a dessert for a special occasion? No easy pre-packaged mix in your pantry and no time to run to the store?
This recipe could quite easily step in to save you – most people have these ingredients readily at hand.
These brownies are my mother's favorite and remind me of hot summer evenings when we snacked on these cakey bars to the sound of crickets chirping outside and the fans swirling warm air inside.
These brownies are made with Hershey's syrup , so they are milk-chocolate flavored and could almost past for a Texas sheet cake! They are very sweet and so easy you can have them made and ready to serve within an hour.
OLD-FASHIONED FROSTED BROWNIES by mistysmornings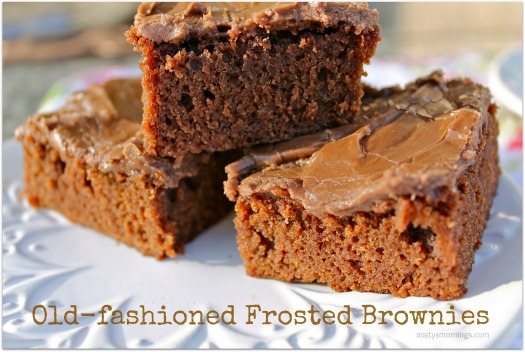 INGREDIENTS
1 cup white sugar
1/2 cup butter (1 stick), softened
4 eggs
1 cup unbleached white flour
1 16oz. can Hershey Syrup
PROCESS
In a large bowl, mix sugar and softened butter until smooth.
Add eggs and stir well until combined.
Add flour and chocolate syrup and mix only until mixture comes together, do not overbeat. The butter will not fully blend in but that's ok.
Pour batter into a 9×13 greased pan and bake at 350 for 25-30 minutes.While brownies are cooling prepare the frosting.
FROSTING
INGREDIENTS
3 Tbsp. butter
2 Tbsp. cocoa powder
1 1/2 cups powdered sugar
6 Tbsp. cream
1 tsp. vanilla
PROCESS
Melt 3 Tbsp. butter in a medium saucepan.
 Remove from heat and stir in 2 Tbsp. cocoa powder until a paste is formed.
 Add 1 1/2 cups powdered sugar, 6 Tbsp. cream and 1 tsp. vanilla.
Whisk until smooth and glossy.
Spread evenly over cooled brownies.
Cover with plastic wrap until ready to be served.
Share with others, or save them for yourself!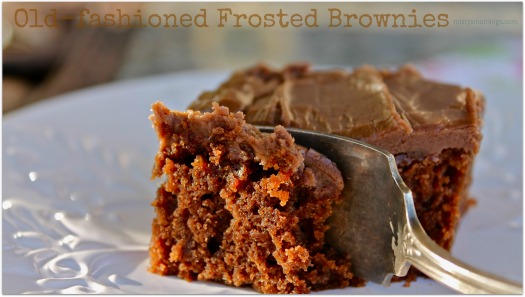 Misty is a mother of three  young boys, a wife of 16 years and sharer of recipes, photos and stories at her blog mistysmornings.com.
P.S. Have a sweet tooth? Don't miss these easy dessert ideas, perfect for sharing with others or surprising your own family!