I'm blessed to live in an area with a vibrant Catholic population. I have a myriad of parishes from which to choose. Some are contemporary, while others are very traditional. Over the years, I've grown to love many of the churches that surround me.
Here's a list of my favorites.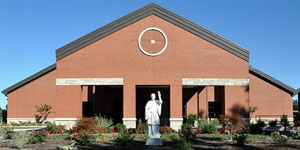 This country church has been my parish for the majority of my Catholic years.
I found solace here while going through a difficult divorce and subsequent annulment. Later, I found renewed joy in my marriage to Brett, along with the births and baptisms of the Kennedy Kaboodle.
Abigail made her First Eucharist and Confirmation here and Brett got to know the Church community as he went though RCIA here when Rachel was a baby.
I grew close to my favorite priest, Father Scott, along with Deacon Gerry. In addition to their roles as church leaders, I count them as good friends. In their own ways, they both challenged me to deepen my faith.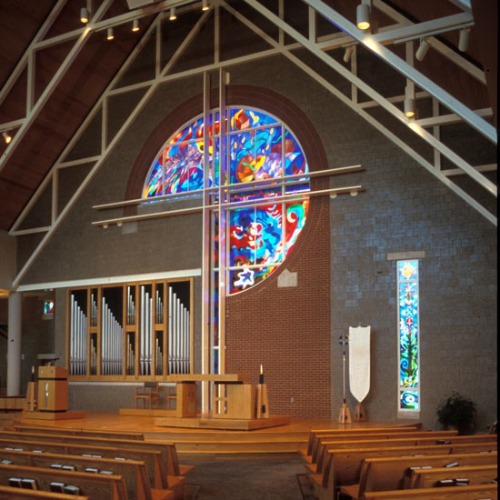 Boasting a membership of over 3000 families, St Gabriel is the largest church in the archdiocese.
I could be a little fish in a very big pond here, but a large, busy parish like this is right up my alley. I love having lots of opportunities for fellowship and service.
You'll find me volunteering hours in Adoration and laughing it up with the other girls in the Moms Club.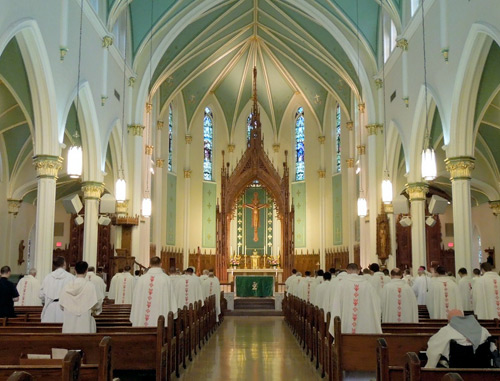 Stepping into this cathedral, I'm automatically filled with a sense of awe and reverence. I'm particularly fond of the amazing Lourdes grotto there.
This was my very first Catholic parish, so this church will always be special to me. This beautiful church is also the host for the Kentucky Catholic Homeschool Conference.

Rachel was born during Holy Week, so one of her very first outings was to church.
Each Lenten season, Epiphany holds outdoor Stations of the Cross. Brett and I met his parents there and walked along the path. When we finished, Rachel had to eat.
I was a total newbie at breastfeeding in public, but sitting inside the glass sanctuary, I was able to pray, meditate, and give thanks for my newest baby girl.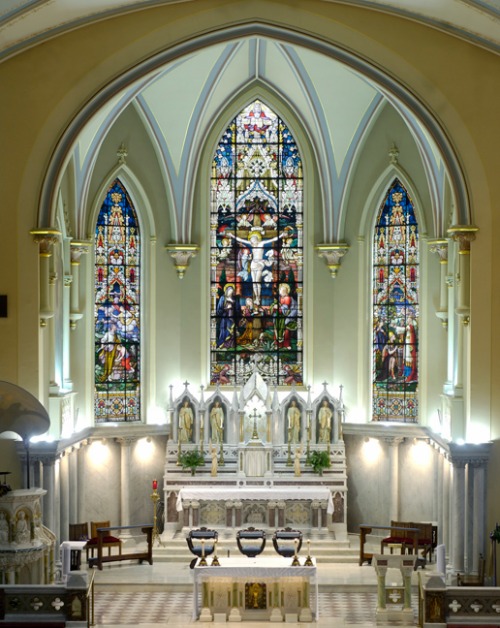 My good friend Carrie (she's also Rachel's godmother!) went through RCIA here and began her marriage in this stunning cathedral.
For me, it's becoming a home away from home. Rachel's American Heritage Girls troop is blessed to have this parish as a sponsor. We hold our meetings here and help the church with service projects.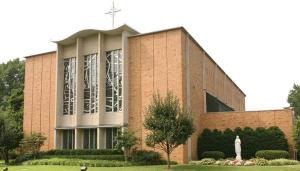 If you visit this church, you'll find two of my favorite people. My best friend Angie calls this parish home. I'm a little jealous, because my favorite priest is there, too.
This past fall, we had our sweet baby Maeve baptized there while Aunt Laura tried to keep the boys from jumping in the baptismal font.
It's YOUR Turn!
What's your favorite parish? Do you love the beauty or architecture of your church? The people? Your priest? Be sure and share your thoughts in the comment box. I'd love to hear from you!
For more Quick Takes, visit Conversion Diary!