Today, we're talking about our plan to take our homeschool history online with the American History courses from The Nomadic Professor.
With five children in our homeschool, we have lots of different personalities and preferences when it comes to school. Some of my kids prefer live classes, while others may enjoy recorded options. Some of my children are OK with a self paced format, while others need the outside accountability of a teacher's schedule and deadlines.
It can be a challenge to choose a course that's a good fit, especially for younger siblings. You may want to stick with what you know, but for some students, that would be a disaster. I've had to tweak my plans between my oldest student and her younger brothers, in order to land on the program that works the best for them.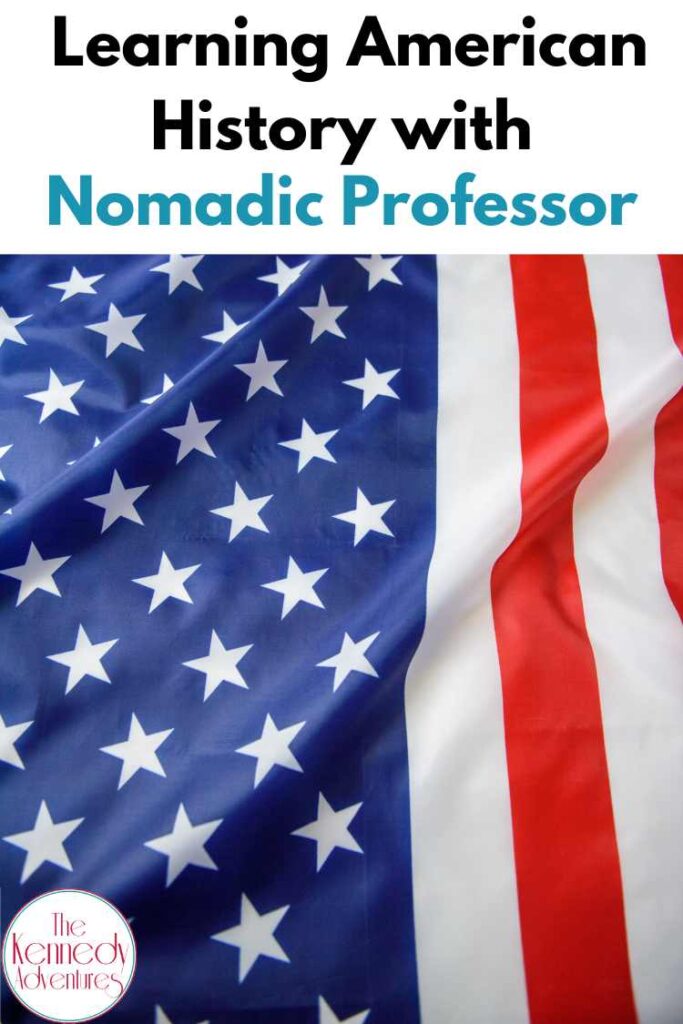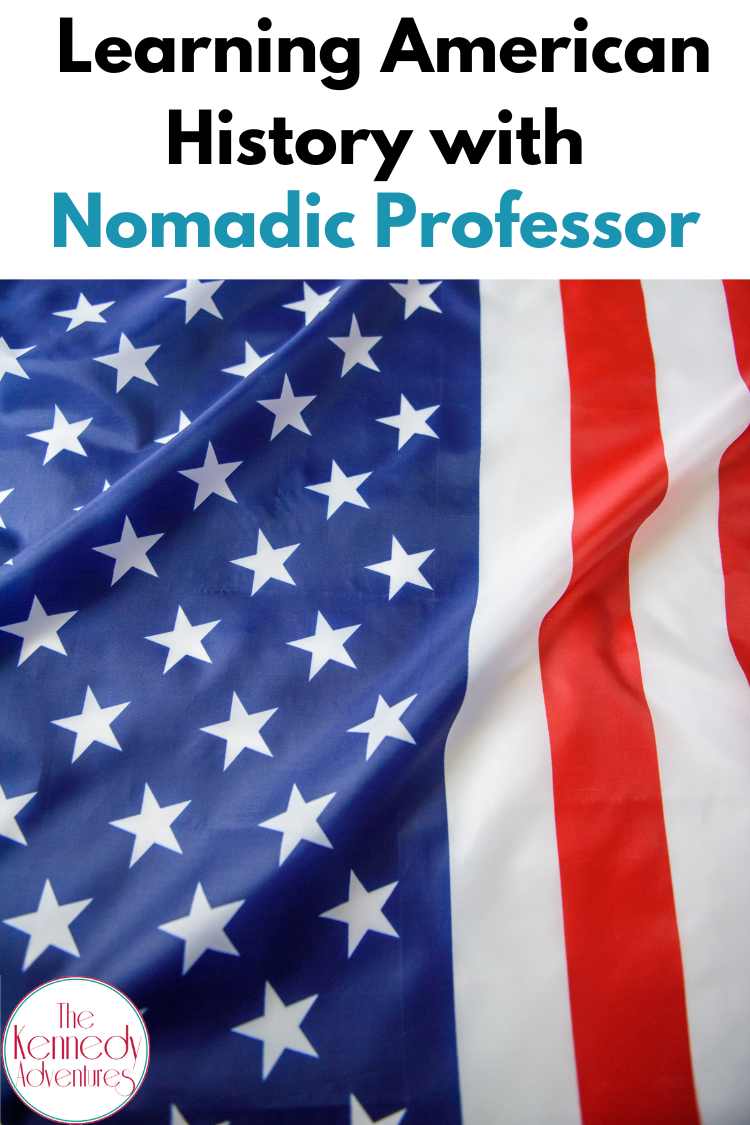 Disclaimer: I partnered with The Nomadic Professor for this post, receiving a membership to their courses for free. I was compensated for my time, and as always, all opinions are my very own.
Why we decided to take American History classes online
My senior took US History last year in our local cottage school, and while she loved her teacher, the textbook was enormous and very dry. I knew that my boys wouldn't be quite as motivated as she was to do well in that type of course, so I began looking for some different options for them. I wanted American History to be engaging, not just a list of dates and people to know.
In my research, I found The Nomadic Professor (it's on the list of Cathy Duffy's top picks), and I immediately added it to my 'must have' list.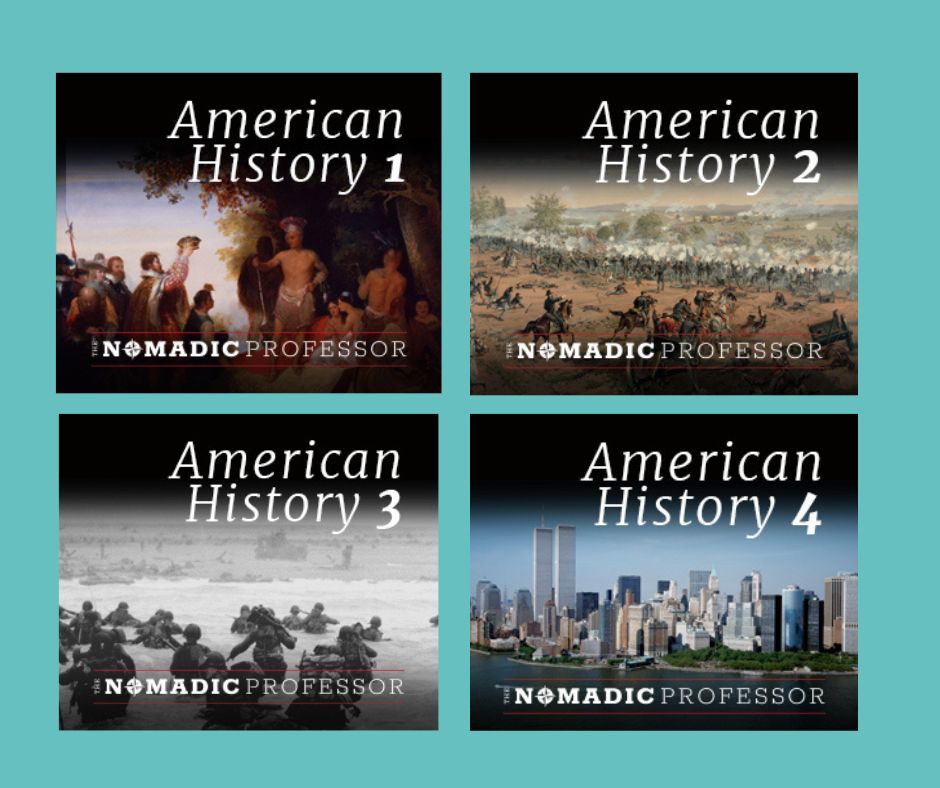 What sort of Online History Classes are available?
Currently, the Nomadic Professor has American History levels 1 through 4, as well as a Media Literacy course
Want to stay connected with The Nomadic Professor and get details about new classes being released? Subscribe to the YouTube channel and hang out in the Nomadic Nation community.

View this post on Instagram
What we LOVED about these Online History Courses for High School
The program is video-based, filmed on location, all over the world. This gives my children a look at historical sites and helps to form connections.
Original text and video, with a focus on primary source excerpts — this is so much different than my dry high school history textbook!
There's a focus on teaching students how to read primary and secondary sources like a pro.
There are so many skills in this course that transfer into our other coursework: note-taking skills, research, writing arguments, breaking down logical arguments and more.
Every session has a complete audio option — this is amazing for students with dyslexia, or students who learn better by listening.
A course dashboard that's user-friendly and intuitive — it contains preview pages, content pages, summary pages, and quizzes, along with document-based lessons.
The robust guided notes help the student approach their reading assignments, and daily work is divided up into questions to be answered for the day.
Each course has a grade book and assignment submission portal — which makes it so easy to document grades on the teacher side.
There's a daily checklist and calendar included in the course, which helps students stay on track. (You can also access this resource inside Homeschool Planet. )

How much are these Online Homeschool Classes?
The Nomadic Professor platform divides pricing into two levels, Standard and Premium. If you're a mom who just wants to take a history course on your own, you'd need the Standard pricing, at $199 for a single course. If you're planning to give credit for the course, you'd need the Premium pricing, at $249 for a single course.
For a limited time, you can save 20% with the coupon code Nomadic20. (Expires 7/31/23)
You can also try Nomadic Professor FOR FREE with the preview option. It's the perfect way to see if the platform would work for you.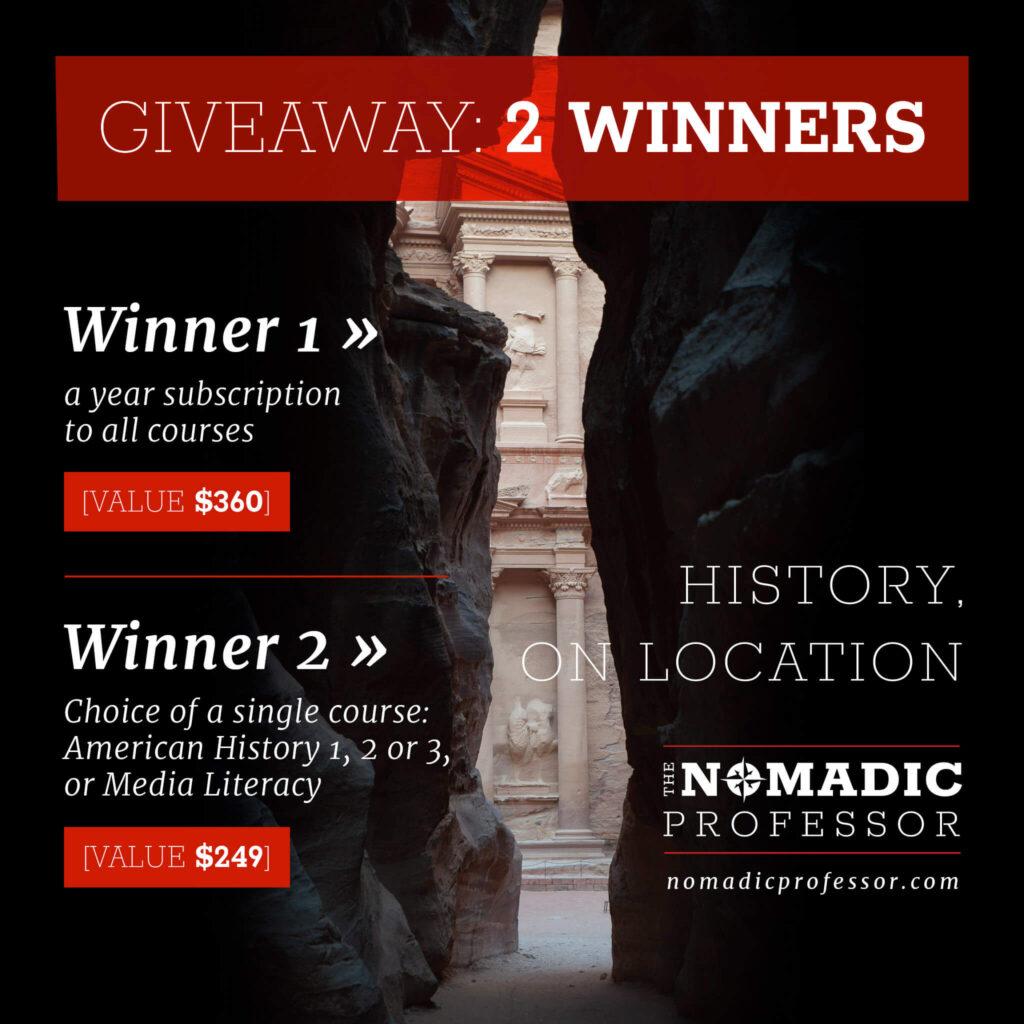 Enter the Giveaway from The Nomadic Professor
The Nomadic Professor is offering you a chance to win one of two amazing prize packages! One winner will receive a year subscription to all courses (retail value $360), and a second winner will receive their choice of a single course. (Choose from Am History 1, 2, or 3, or the Media Literacy course – retail value $249)