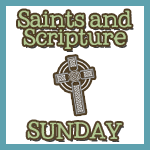 I'm a major grudge holder.
I've been known to hold on to grudges for months, or even years. As I've stopped to think about this, the only person this hurts is myself. Most of the people (and yes, it's plural) I harbor bad feelings toward have no idea, and could really care less. It's going to be something I'm going to be working on in the next few months,and very timely for Divine Mercy Sunday.
Matthew 6:14-15
For if you forgive others for their transgressions, your heavenly Father will also forgive you.
But if you do not forgive others, then your Father will not forgive your transgressions.
By practicing mercy and forgiveness, I'm hoping to move a little farther down the path where God wants me to be. Need more resources? Father John Riccardo is a great place to start.
Another cause for great celebration today in our Church? Our beloved Pope John Paul II is being beatified today in Rome.
Hope everyone is having a marvelous Easter season! Drop me a comment, and join in!