Are you ready to fill those Easter baskets? What about adding a book to your Easter treats?
Take a look at this excellent list of Easter books! My kids love the The Egg Tree and Marshmallow. Happy Easter!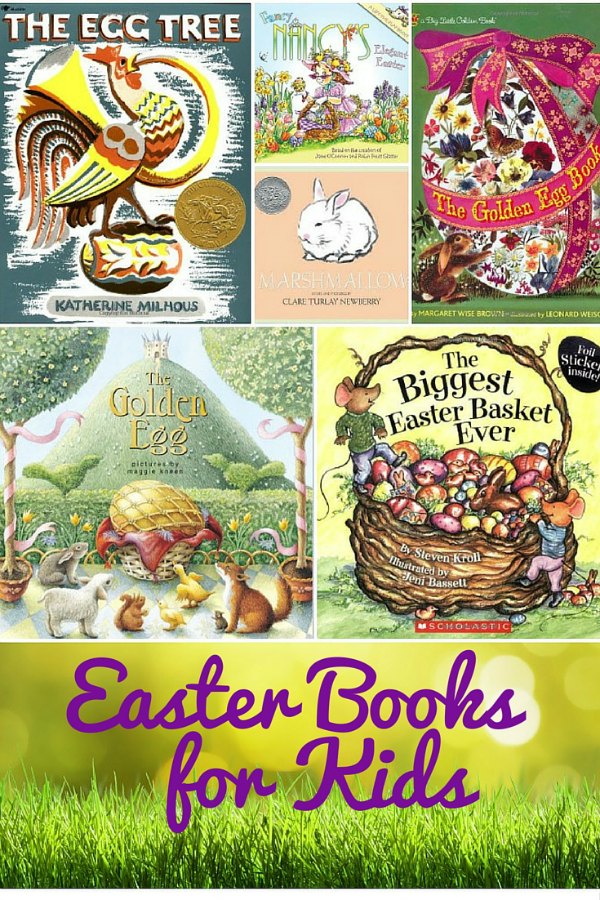 The Biggest Easter Basket Ever
I'd highly recommend Rechenka's Eggs — like the other Patricia Polacco books we own, it's a treasure!
Duck & Goose, Here Comes the Easter Bunny
---
The Country Bunny and the Little Gold Shoes
When Katy discovers her grandmother's old hand-painted Easter eggs in the attic, she inspires the renewal of a special tradition: the Easter egg tree!
---
Pete the Cat: Big Easter Adventure
When I spy any books from Jan Brett at the Goodwill or used bookstore, I always snatch them up. The Easter Egg has been in our house for almost 15 years! Jan Brett's lovable bunny hero, Hoppi, and her remarkable Easter Rabbit will enchant readers as they pour over illustrations filled with dazzling eggs made by Flora Bunny, Aunt Sassyfrass and others.
Pinkalicious Eggstraordinary Easter
---
The latest Gossie and Friends book opens with goslings Gossie, Gertie, BooBoo, and Peedie working hard at gathering and dyeing eggs, while Ollie spends his time playing
---
Olivia and the Easter Egg Hunt
There Was an Old Lady Who Swallowed a Chick
A wacky new Easter version of the classic "There Was an Old Lady" song! Get ready for some laughs!
---
Cutie Pie Looks for the Easter Bunny
Cutie Pie's friends all have Easter eggs but Cutie cannot find the Easter Bunny to get her egg. Wherever can he be? Little readers will love joining in with Cutie Pie's search. Perfect for your babies and toddlers!
Marley and the Great Easter Egg Hunt
---
The perfect board book for little siblings of Peter Rabbit fans!
What's your favorite Easter book? Share your ideas in the comments!