Are you planning a beach trip with your little ones? Take some time to explore some of these beach books for toddlers before you go. We've loved them in our family with babies, toddlers and preschoolers.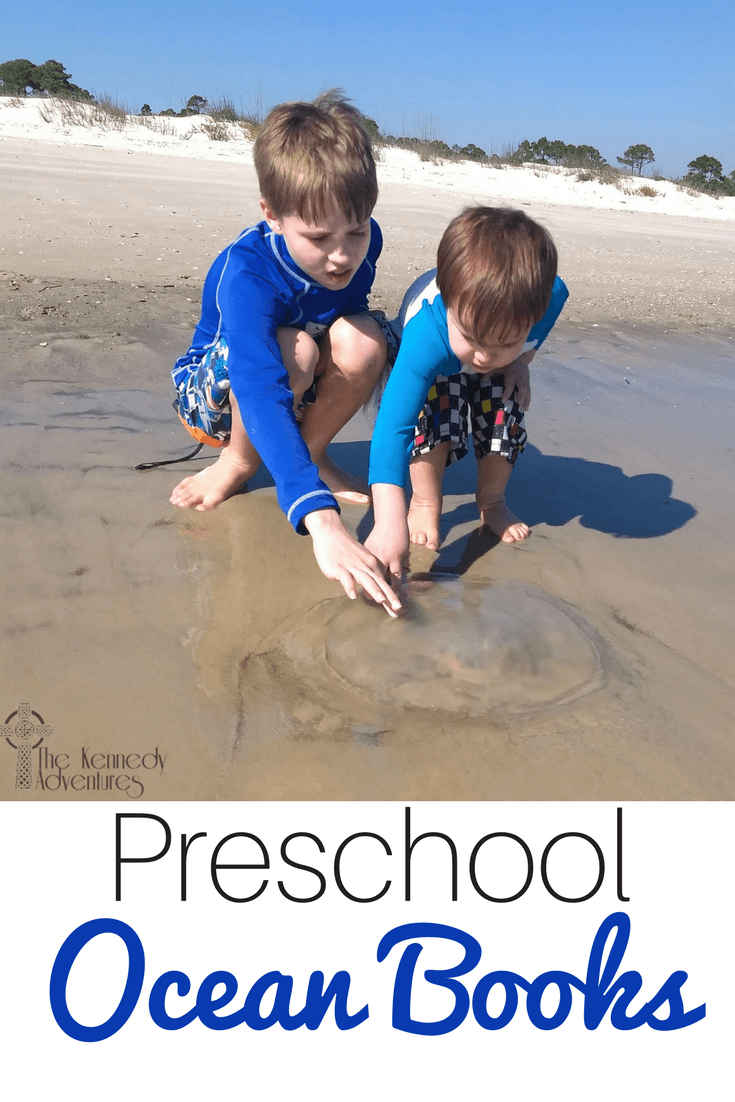 Under the Sea Feel Reals Book
Feels Real Books have textures for toddlers to touch and recognize. Books feature vivid color animal photos on every page. The heavy board cover and pages are sturdy enough to withstand rough treatment from tiny hands.
---
Peekaboo in the Ocean
Peekaboo! Who's hiding in the ocean? Lift the flap to find out! Perfect for guessing, prediction and memory skills.
---
Under the Sea
In Under the Sea, toddlers can lift the flaps to learn how a baby fish, crab, whale, and octopus will look when they are all grown up.
---
123 Under The Sea
Little ones can turn the tabbed pages to learn how to count from 1 to 5 with whales, mermaids, seahorses and more.
---
Hidden behind "peekaboo" flaps, a turtle, sea lion, lobster, clownfish, and shark are just waiting to be discovered. Inviting rhymes offer simple clues to help readers guess who's hiding. A special surprise under each flap and big pop-up at the end add to the charm of this delightful book.
---
I'm the Biggest Thing in the Ocean!
With its snappy text and bright, bold artwork, this winning modern classic is guaranteed to have even the youngest of readers grabbing at pages and laughing along.
---
Hooray For Fish
From the creator of Maisy comes an eyepopping picture book that is sure to have little ones joining the chorus,"Hooray for fish!"We love Lucy Cousins' bright, bold illustrations.
---
Little Shark
Tiny tots can enjoy swimming among the fish with Little Shark in this simple, comforting story. The book features a permanently attached plush finger puppet and peek-a-boo holes in every page, giving parents and children a fun, interactive way to play and read together.
---
Big Fish Little Fish
Dive into the ocean to learn about opposites in this bubbly book! With bright artwork, fish-shaped finger-holes, and a fun rhyming story, learning is brought to life!
---
Fish Eyes: A Book You Can Count On
Now toddlers can dive into counting with this board book edition of one of Lois Ehlert's most popular books. With cutout fish eyes to touch and an energetic fish friend to guide them, they'll have so much fun they won't even notice they're learning!

---
Secret Seahorse
A sea horse leads the reader past coral reefs and underwater creatures to a sea horse family hidden in a cave. Includes notes on coral reefs and various marine animals.
---
Mister Seahorse
When Mrs. Seahorse lays her eggs, she does it on Mr. Seahorse's belly! She knows he will take good care of them. While he swims waiting for the eggs to hatch, he meets other underwater fathers caring for their babies. This book has been a Kennedy family favorite for over 15 years!