Being Catholic is so much more than simply taking my kids to Mass on Sundays. We have a rich heritage to explore, with a list of Catholic saints to emulate, along with liturgical seasons and feast days to celebrate.
To make it easy, I'm creating monthly Catholic family calendars — filled with the upcoming feast days and Holy Days, activities to try, saints to study and ways to enrich your domestic church.
July is almost over, so we're looking ahead to August.
In this month's Catholic family calendar, you'll find ways we're celebrating St. John Mary Vianney, St. Monica, the Feast of the Assumption and more.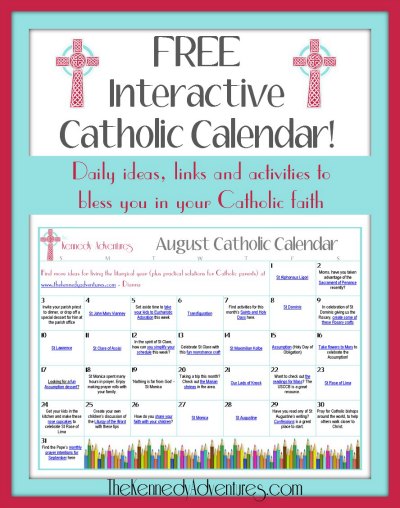 Don't miss the August Catholic Family Calendar. Click the link or image above to download to your computer.
If you plan an activity, craft, or explore an idea you find here, I'd love to hear about it!
Feel free to share this post on Pinterest, Facebook or your favorite social media site. Have fun living the liturgical year with your family!