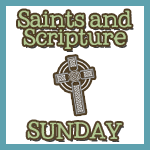 Psalm 34:18
The LORD is close to the brokenhearted
and saves those who are crushed in spirit.
For the second time in less than a year, I've struggled to find meaning behind tiny lives that were taken much too soon. I've thought about the perfect words to say, gifts to bring, or cards to send. Both times, I've come up woefully short.
In September, my sister lost her second son. This week, I watched one of my best friends support her best friend as she suffered the loss of her brand new baby. There are no words to take away the hurt – so in these situations, I tend to be very quiet. The only thing I can do is pray for these women, and their families, to lean on God in these most heart breaking of times.
Once again, I turn to Mary, since she knows the pain of losing a child. This week, the Seven Sorrows will be the perfect prayers to lift these families up.