There are loads of homeschooling blogs on the Internet. (hey, I'm sort of in that crowd) Many of those rock star mommas manage to teach their children AND blog about what they've been up to. Hmm. Not me, so much. At least not up to date. Want to know what we've been doing in this first month of homeschooling? Here we go ….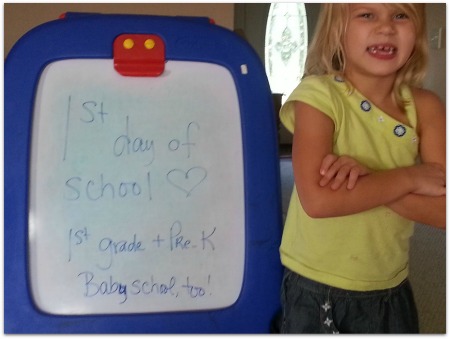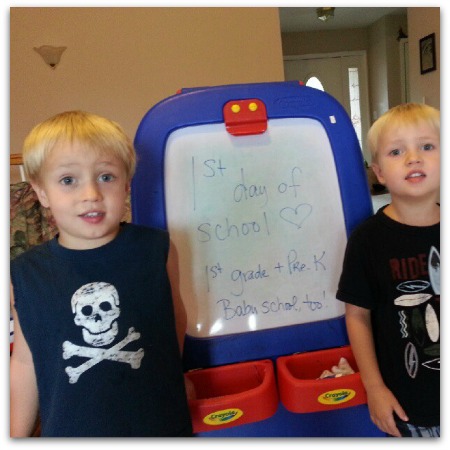 First off, we survived kindergarten. You may have seen my bi-polar tweets, ranging from, "The angels are singing, I love homeschooling" to "Someone bring me VODKA, STAT! I'm trying to teach long vowels."
I have all three littles at home this year. Why yes. I AM a glutton for punishment. We opted to keep the boys home this year, and although my house is a wreck, I'm happy with that decision.
They love it. I bought a pre-K curriculum from Memoria Press and we're going through it slowly — but I'll be happy if they learn their letters this year. A classical curriculum like the ones we use can be writing intensive, and they are not ready for that at all.
Instead, we work on fine motor skills, trying to strengthen their hands, and get them past the point where they say, "I hate writing!" Well, Adam hates it. Thomas will write, but I think he's just a people pleaser.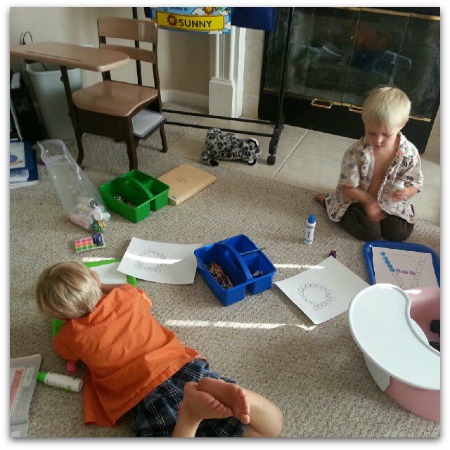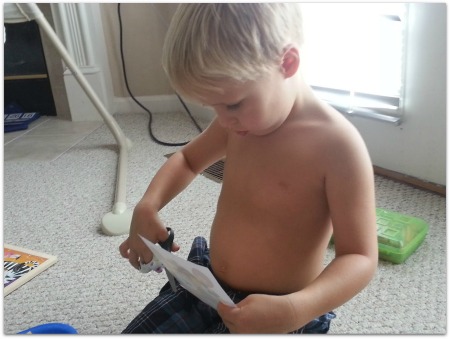 We use scissor time with Kumon workbooks, lots of do a dot letter practice, and a gem from Pinterest – chalkboard letter painting.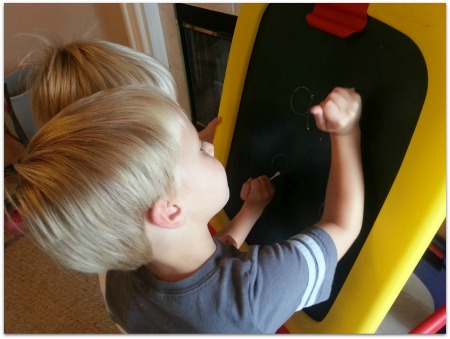 Thanks to my dear sweet buddy Colleen at Raising Lifetime Learners, I'm trying to be a little more organized. We're trying workboxes … and it only took me about 2 weeks to figure out I could probably use two of these organizing monsters.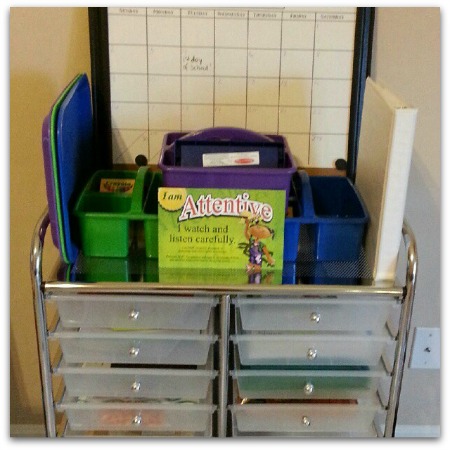 I put each subject in a drawer, and the kids go and pull them out. (yes, I know I need to get some numbers on there!) I even 'hide' some non perishable snacks inside some, too.
It works well …. provided I take the time to set the drawers up. Ahem.
Literature is a HUGE component of our school — I love the selections that Memoria has in their program. There are books I've loved since childhood, as well as classics I never ran across.
Since we started, the boys have done:
Green Eggs and Ham
The House That Jack Built
Ten Little Rubber Ducks
Rachel's read alouds have been:
Miss Spider's Tea Party
The Ink Garden of Brother Theophane
A House is a House for Me
Miss Twiggley's Tree

The learning opportunities are amazing with these books — some are classically well written, others beautifully illustrated, and some serve as a jumping off point to teach your small ones how to treat others.
The age difference between the children is actually a plus here — Rachel can sometimes read the younger stories to her brothers, and the boys are challenged by listening to the stories geared for older audiences. Win, Win!!
Rachel is doing her fair share of reading books on her own, too. MP does a fantastic job of leading children down the path to learning to read well. We started off this year with Little Bear, and soon moved on to Little Bear's Visit. She LOVES the Little Bear stories — so I'm probably going to pick up a few for Christmas.
To go along with her readers, we have Story Time Treasures. This helps with grammar and reading comprehension. We're working on sentence structures, parts of speech and parts of a story. It's an invaluable resource for us.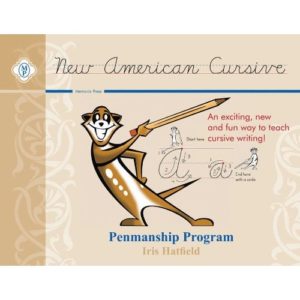 She's also working on cursive writing — and she's so proud! We're using New American Cursive. I love the simple look, and she's picked it up very quickly. Back in the day, I don't recall doing cursive until third or fourth grade.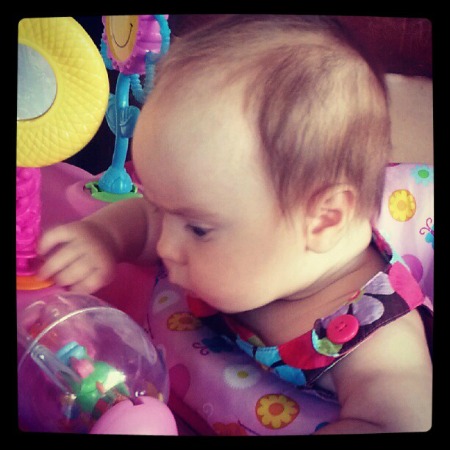 Wondering what the baby does all day? If she's not sleeping or nursing, she's working on her core strength with the Exersaucer. Never fear. She's rolling over like a crazy woman already. She'll be crawling by Christmas.
Check back next week — I MIGHT be talking about field trips and service projects!
For more Quick Takes, visit Conversion Diary!