Sadly, my days of running are officially over until July. We had a beautiful, unseasonably warm day here in Kentucky a few weeks ago. I decided to go for a run.
After I found a pair of pants to fit over the expanding behind, and squeezed The Girls into a sports bra, I took off. Felt great, and was trucking along, when I heard a weird noise.
Thinking it was my iPod, I turned it down. Nope. The weird noise was me! I was wheezing — something I've NEVER done before while running. So, I slowed down to a walk. Good thing – since I started having cramps in my lower belly. I trudged home, sulking all the way.
I suppose it's recumbent bike for me.
More pregnancy updates — I'm at 24 weeks, and everything looks right on schedule. We did not find out the gender, which makes everyone around here crazy. We have names all picked out — but we're keeping them to ourselves, too.
What does a pregnant momma look like at 22 weeks? I'm so glad you asked. It gives me a chance for some shameless belly shots.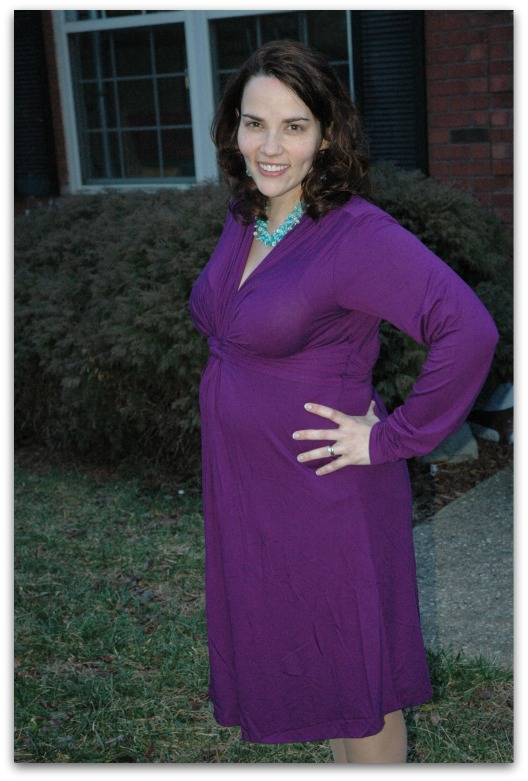 Sadly, I don't think I look much different than I did when I was 22 weeks pregnant with my twins. That's the only thing I have this to compare to, since I was really bad about taking pregnancy pictures with my girls.
And where was I going, all dressed up? Date night, of course! I considered it an early Valentine's Day dinner — Cuban food and ice cream! YUM! Don't miss the date night ideas post — Spring will be here before we know it, and I want to play Frisbee Golf. That shouldn't be too taxing on me.
Books I'm reading:
A Book of Saints for Catholic Moms
Small Steps for Catholic Moms

Handbook for Catholic Moms
In preparation for Lent, I ordered Welcome Risen Jesus, and Guiding Your Catholic Preschooler. I need a day to myself to simply read, and then post some reviews.
We're off to my friend Kaye's house today for some homeschool socializing! We haven't spent a lot of time at home this week, so my house is suffering a bit. Well, actually, it looks a bit better than usual – since I'm having the kids help clean up before we go to bed at night. Why didn't I think of that already?
Head over to visit Betty Beguiles today for more 7 Quick Takes!