This post may contain affiliate links.

Since this is Baby Number Five, you'd think I'd be used to pregnancy symptoms by now. This was supposed to be my 'easy' pregnancy, after having twins, but the first trimester really kicked my behind.
I've survived — and I'll share my best tips to help get you through the seemingly endless first trimester.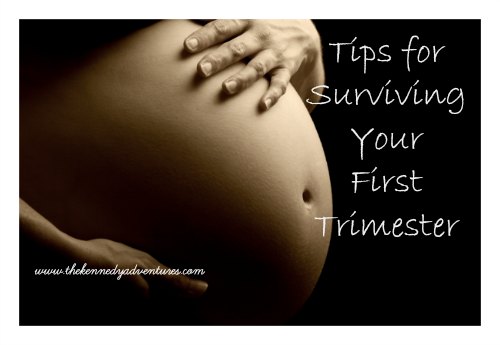 1. Get everyone on board.
I am unbelievably blessed with a wonderful husband who GETS how miserable early pregnancy can be for a woman. He pitches in with laundry, childcare, cooking and more. That's a tremendous help to me, especially on days where I feel like I can't even hold my head up.
Ladies – explain (nicely) to your husbands that you are building a human being. It's a toll on your body, whether you can see it or not.
2. REST
There is no doubt – fatigue is one of the most debilitating pregnancy symptoms during the first trimester. There's not a lot of ways to get around it but simply sleep. Go to bed early, and try to nap while your children nap. (if you're that lucky)
3. Give some things up
I talked about this over at The Homeschool Classroom a few weeks ago. The first trimester is all about survival mode for me. My friends thought I'd been kidnapped by aliens — they didn't see me for about 6 weeks.
Just say no to things that aren't VITAL to your survival.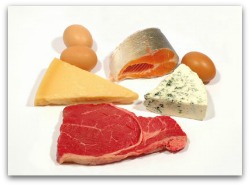 4. PROTEIN
Nutrition plays a big role in how we feel, and especially during pregnancy. It's difficult, when you feel like the only thing you can tolerate is crackers or toast.
I feel much better if I can manage to get some protein in my stomach. Some ideas you might try:
– protein shakes
– cheese
– handfuls of almonds or pecans
– peanut butter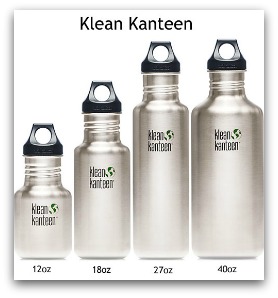 5. Water
Many pregnancy symptoms are actually exacerbated by even mild dehydration. During the first trimester with this baby, the ice out of my fridge smelled funny to me. I sweet talked my husband into buying bagged ice from the store, and I was good to go.
Try crushed ice, or lemon slices in your water to make drinking a little more palatable.
6. Exercise
This is one of those "do as I say,not as I do" kind of things. I was in the home stretch of training for a half marathon when I became pregnant. The day before I took my pregnancy test, I ran 10 miles, and felt amazing.
The week after I knew I was pregnant, it's like someone flipped a switch. I was suddenly so exhausted I couldn't move. My friend Kriston encouraged me to keep on going, but I couldn't get out of bed.
If you keep up a gentle exercise routine, chances are you'll sleep better, and actually have more energy. I can't speak from experience, sadly!
7. Small, frequent meals
I felt better when I ate about every two hours or so. Grazing helps keep nausea at bay, and your blood sugar on an even keel. You could even enlist your husband's help to package up some snacks that you can grab on the go. (sandwiches, apples, carrot sticks, etc)
8. Get a bra That Fits
Your boobs will grow exponentially — sometimes overnight. You'll need a good, supportive bra. Don't squish the girls into a bra that's way too small. If you're comfortable, you'll feel a lot better.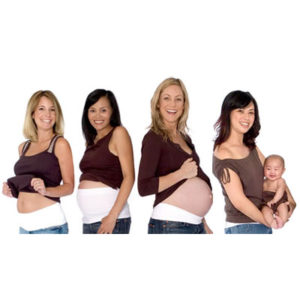 9. Buy a Bella Band
Even before my belly actually starts to be noticeable, I can't stand pressure on my stomach. Feeling miserable in my regular pants, while not nearly big enough to wear my maternity pants …. my Bella Band saves me every pregnancy.
You can wear this in early pregnancy or even post-partum – leave your regular pants unbuttoned/unzipped, then place the band over top. It keeps your pants together, comfortably. You can also use it over maternity pants that are too big.
10. Talk to your doctor
If you're completely miserable with nausea, talk to your doctor. There are over the counter remedies you can try, or prescription medications that are deemed safe for pregnancy. (word to the wise – these medications did NOT work for me.)
Nausea symptoms usually subside after week 12, so at least there's some light at the end of the tunnel. For me, having something small on my stomach seemed to help.
You WILL survive this — before long, you'll be holding a tiny baby (or two) in your arms that makes all the struggle so worth it.
What about you? Have I missed a pregnancy tip that you'd like to share? Be sure and leave a comment below. I'd love to hear from you!

This post is linked to Top Ten Tuesdays,Works for Me Wednesdays,The Mommy Club, Feature Yourself Friday,Home and Family Friday and Wordful Wednesdays.