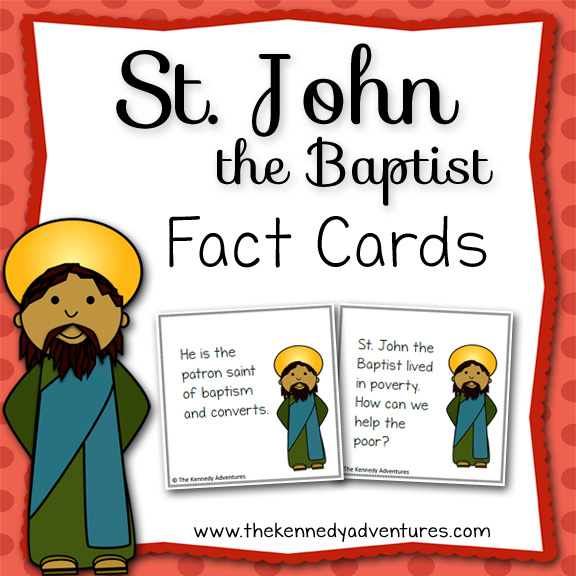 St. John the Baptist Fun Fact Cards
Are you ready to study St. John the Baptist in your home with your children, in your homeschool co-op, religious education class or even a school classroom?
These Saint Fun Fact Cards are an easy, colorful and FUN way to learn about your favorite saint. You can start your mornings with these 30 fact cards that explore amazing fun facts about a Catholic saint.
I recommend printing these on cardstock and laminating them for durability.
Using Saint Fun Fact Cards
You can use these Saint Fun Fact Cards in a variety of ways, with all ages and grades. Take a look at a few ideas :
Daily Fun Fact – During your morning time, read a fact card, then store them in a small basket or box that's easily accessible for everyone. You could even punch a hole in the corner and keep them on a ring.
Saint Fact of the Day Display – After reading the Saint Fun Fact Card, display the fact on a special bulletin board or even lining a hallway!
Calendar Pocket Cards – Use the Saint Fun Fact Cards in your pocket calendar. Each day during calendar time, take the card of the day out and discuss.
Card Games with Saint Fun Fact Cards – You could print out multiple copies and play games like Go Fish or Memory. As more sets are developed and published, you could even play a game of 'Who is This Saint?' – quiz your children by giving them a fact and having them name the saint. How fun!
These cards are sized perfecly for little hands to use in a game or for simple exploration.
These cards aren't numbered, so you can use them in any sequence that works for you. This makes the cards even more flexible for you!