Mother's Day is JUST around the corner! To help you celebrate, I'm joining with the bloggers of the iHomeschool Network and giving away a Mother's Day Gift Basket!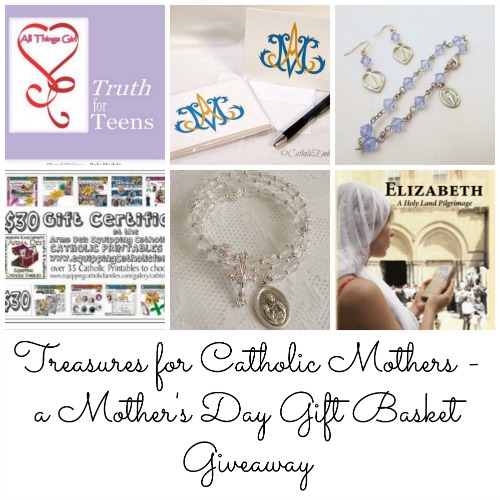 In the Treasures for a Catholic Mother basket, you'll find gifts for Catholic mothers from Catholic authors, bloggers and artists to help you celebrate your faith and create your domestic church.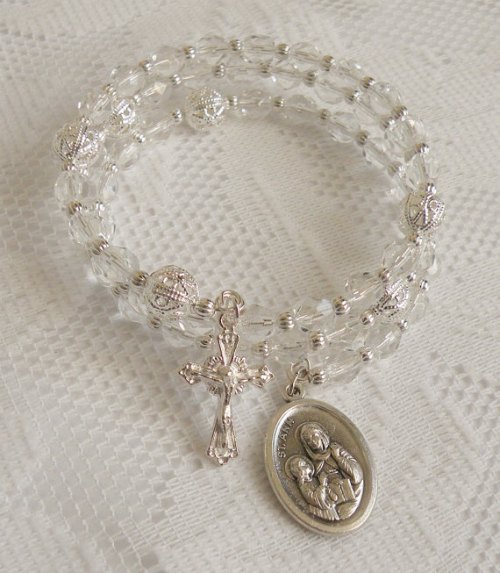 From ABA Beads KC:
A Five-Decade Catholic Rosary Bracelet – with a medal of Saint Anne. As Jesus' grandmother, Saint Anne ranks highly on my list of Catholic saints!
From Bezalel Books:
My friend Cheryl Dickow sent over two releases from her Catholic publishing company for you to enjoy.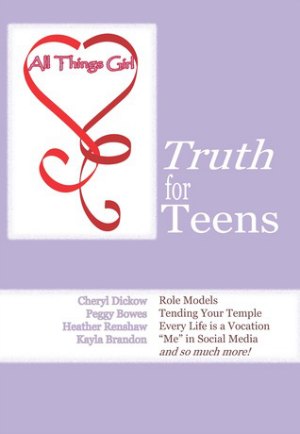 All Things Girl: Truth for Teens
As the mother of three daughters, I struggle with raising them in a world that has a skewed sense of beauty, in a culture that has separated itself from dignity and self worth. In today's era of Facebook and Instagram, I'm trying to encourage my girls to establish a strong relationship with Christ,to shore themselves up a culture designed to tear them down.
Truth for Teens offers practical advice for helping teens navigate the murky cultural waters while strengthening their virtues and seeking their vocations as Christian women in today's world.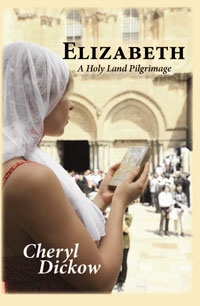 Elizabeth: A Holy Land Pilgrimage

Looking for inspirational Christian fiction? In Elizabeth:A Holy Land Pilgrimage, you'll follow Elizabeth as she travels to Israel, questioning her marriage and stage in life. As she connects with people in Jerusalem, you'll watch God work in her life.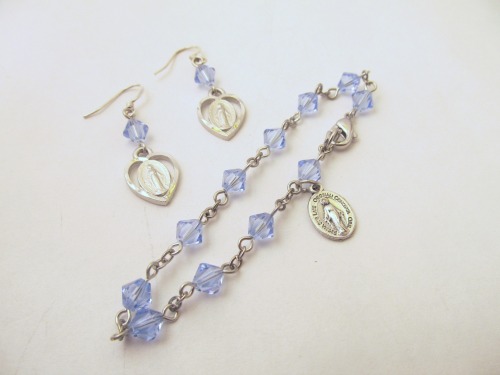 From Delicate Decades:
A beautiful rosary bracelet and matching Miraculous Medal earrings
I love the beautiful blue crystals in this set from Megan at Delicate Decades! You'll find a rosary bracelet and matching earrings depicting Our Lady in the Miraculous Medal.
From Harrington Harmonies:
School of Mary: Eucharist Reflection eBooklet
Looking for an example to follow, to deepen your relationship with Christ? Who better than Mary?
My friend Stephanie from Harrington Harmonies is sharing her newest ebooklet, School of Mary, to help guide you in developing a Eucharistic attitude in your life.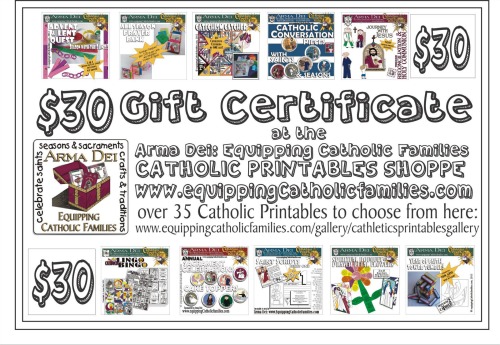 From Equipping Catholic Families:
A $30 Gift Certificate to Arma Dei store
Monica has a huge selection of Catholic printables and craft kits you can peruse to select what would work best in your family. You could choose a Liturgical Family Calendar, games like Catholic Bingo, lapbook lessons and more. Be sure to follow them on Facebook for the newest product lines and specials!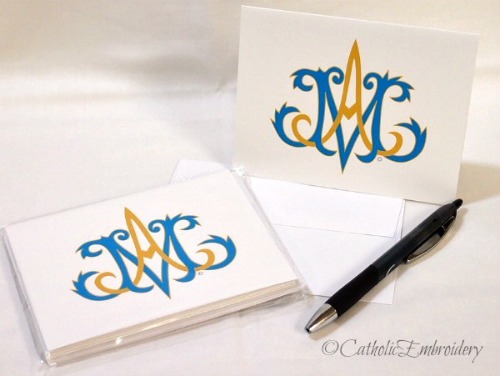 From Catholic Embroidery:
Set of Ave Maria notecards
I'll be making out thank you cards soon, for gifts we received after Daniel Patrick was born. These Ave Maria notecards would make a beautiful addition to your stationary set. You could use them for thank you cards, or a note just to say hello.
Don't miss out on other Mother's Day gift basket giveaways from my friends at the iHomeschool Network.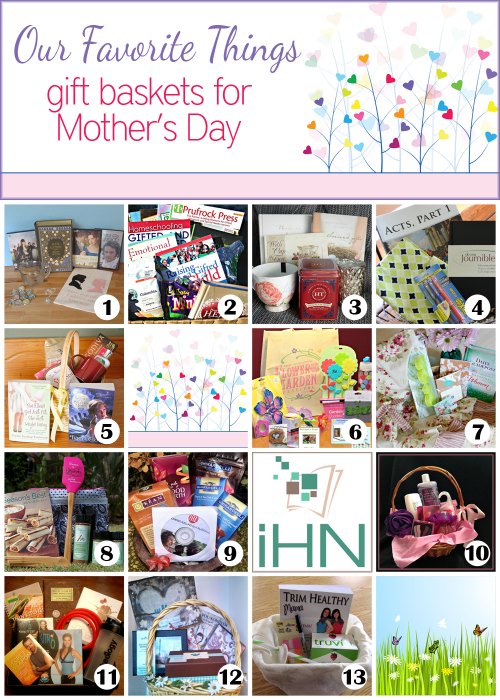 In honor of mothers everywhere, 13 iHomeschool Network bloggers have put together gift baskets loaded with a few of their favorite items. Take a peek around these 13 sites and enter to win as many baskets as you like. Each blogger is conducting her own giveaway, so you never know…you may end up winning more than one!
(1) Jane Austen Giveaway from Amy at Milk and Cookies
(2) Moms of Gifted Kids Book Basket from Colleen at Raising Lifelong Learners
(3) Mama's Tea Time Gift Basket from Jamie at See Jamie Blog
(4) Bible Study Basket Giveaway from Sam at Sam's Noggin
(5) Mom's Coffee Break Basket from Heidi at Starts at Eight
(6) Spring Goodie Bag from Megan and Susan at Education Possible
(7) Mom's Just for Fun Basket from Lara at Lara's Place and a Cup of Grace
(8) Pampered Pantry Basket from Michele at Preschoolers and Peace
(9) Homeschooling IRL Buzzkill Basket from Kendra at Homeschooling IRL
(10) Mom's Relaxation Basket from Stephanie at Harrington Harmonies
(11) Healthy & Fit Mama Basket from Alisha at Flourish
(12) Mom's Memories Basket from Renee at Great Peace Academy
(13) Trim Healthy Mama Basket from Judy at Contented at Home
(14) Treasures for a Catholic Mother from Dianna at The Kennedy Adventures