1. There's been one thing on my mind the entire week.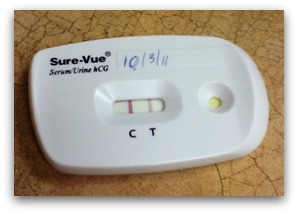 2. For those of you unfamiliar with that little square — it's a pregnancy test. One line is the control line, the other is the test line. Two lines – you're pregnant. Well, not you, but me.
3. Keeping count? That makes Baby #5. I'll have a newborn, a 6 year old, two 4 year olds, and a 17 year old by this summer. Yes, that's a busy house. I thought this might not be good timing, but my amazing friend Kaye (who plans to live vicariously through me with this pregnancy) reminded me that I will be off from work all summer. BONUS!
4. Am I nervous? Not at all.
Seriously.
I'm going to savor every last minute of this pregnancy.
5. Yes, I contemplating NOT telling people for a bit. All for about 30 seconds, when I immediately emailed my friend Angie. (No worries, folks. My husband was the first to know. Angie doesn't check her email at 3 am anymore)
6. With baby #5, I'll have reached a whole new status – the grandmultipara. And, since I'm SO OLD, I'm also a senile gravada. Whoever coined that offensive term must have seen me in the morning, covered in children in the queen sized bed, hair all standing on end, before I've had my coffee.
It's currently referred to as 'advanced maternal age' — as if that is any less offensive. I prefer – "Like wine — she's just getting better with time".
7. I know this may sound silly, but I've gotten rid of most of my baby stuff! I was in the decluttering mode, and some things were sold, some were lent out, some were given away. I need your best ideas for things that I simply MUST have. I've already got the milk supply covered, no problem.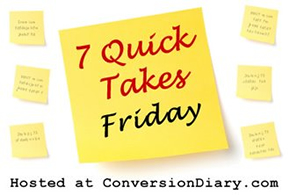 For more Quick Takes that don't involve baby announcements, visit Jen at Conversion Diary. I'm sure she's got some scorpion tales for you, just in time for Halloween.