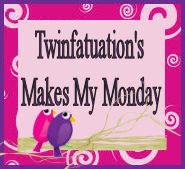 Were you busy during April? Wondering what posts you might have missed here? Here's a rundown of my top ten most visited posts for the month of April, 2012.
1. Birthday Party Ideas for Little Boys
2. Beautiful Baby Shower Ideas
3. Tips for Running a Half Marathon
Be sure and follow my Adventures in Fitness board on Pinterest for more fitness resources!
4. Birthday Party Ideas for Girls
5. Half Marathons I Want to Run
6. St Patrick's Day
More faith resources can be found over on my Adventures in Faith board.
7. Things You Should NEVER Say to a Pregnant Woman
8. Songs to Add to Your Running Playlist
9. Palm Sunday
10. Keep Yourself Safe While Running
Many thanks to those folks who sent traffic my way! I really appreciate it – head over and visit these fine folks.
Head over to Cheryl's today for more Makes My Monday fun!