My children love movies, but I'll be honest.
We rarely go to the theater, because it's a budget buster.
In my area, if Brett and I wanted to take the kids to see Wreck It Ralph at the cinemas, it would cost us over $35!
That's BEFORE drinks and snacks — crazy! My poor kids usually have to wait until the DVD is released, unless I can find a deal.
While I was shopping the other day for cereal, I noticed a promotion on the General Mills cereals.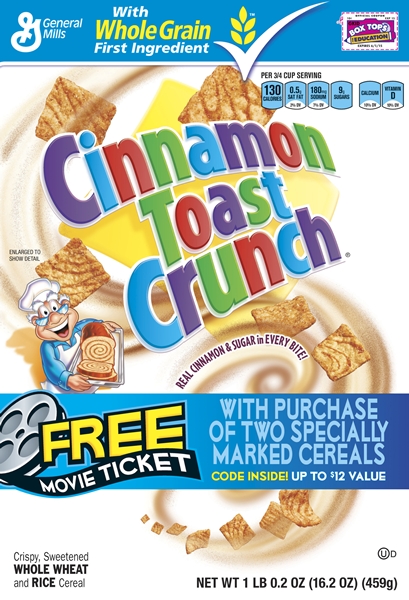 When you purchase two boxes of General Mills cereals including Cheerios, Cinnamon Toast Crunch, Lucky Charms, Trix, Cocoa Puffs, Golden Grahams, and Reese's Peanut Butter Puffs, you can get a free movie ticket!
After purchasing two participating cereals, visit Emoviecash to enter the unique code found inside each box of cereal and print-off your free Movie Cash certificate (good for one admission of up to a $12 value at participating theaters).
I checked the participating locations, and I have 4 in my area – hooray! Check out your own area, then head to the store for cereal and movie tickets!
What movie is on your MUST SEE list?
Disclosure: The information, products and General Mills gift pack were provided by General Mills through MyBlogSpark. All opinions are my very own.