If you follow me on Twitter, you know I'm a bit of a night owl.
My crazy schedule as an Emergency Room nurse is partially to blame. I work every weekend from 3 pm until 3 am, so it's hard for me to get back on a normal schedule during the week.
When I take on a challenge, I like having accountability.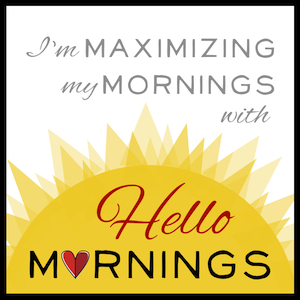 Starting January 28th, I'll be a part of the Hello Mornings winter challenge. As a mother who struggles with finding time for prayer, exercise and time for myself, I NEED this.
There's still time to join in — hop over to Hello Mornings and get signed up.
We need to cheer each other on the road to success! And … if you see me on Twitter late Monday through Friday, be sure and tell me to hit the sack!