By this point in my pregnancy, it's no secret anymore. At 29 weeks, I have a very obvious belly and waddle more than I walk.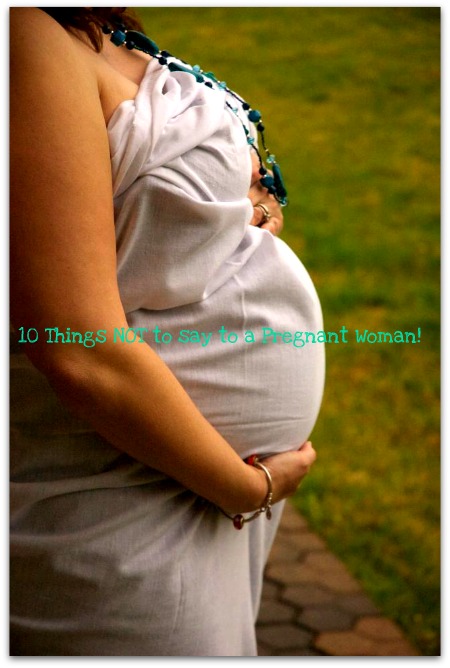 After hearing every silly comment in the book about being pregnant, I thought that a public service announcement was in order. I took to my friends on Twitter and Facebook, and asked for their help.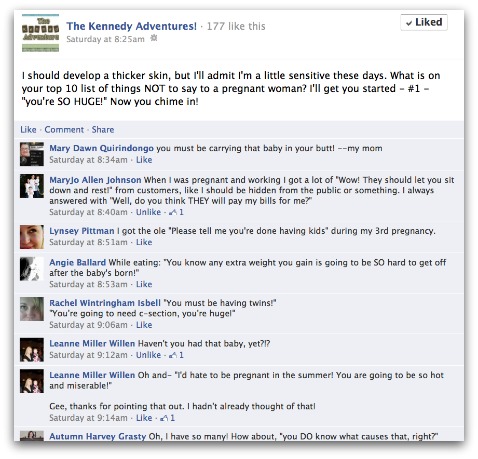 1. You're Huge!
I got this comment from a patient the other day – I walked in the room to discharge her, and she says to me, "When are you due". (cue theme from Jaws)
I said, "June". She then turns to her family member and says, "She's huge! You're due in July, and you can't even tell you are pregnant."
Sigh.
I refrained from screaming at her, simply pointed behind me, and said, "There's the door."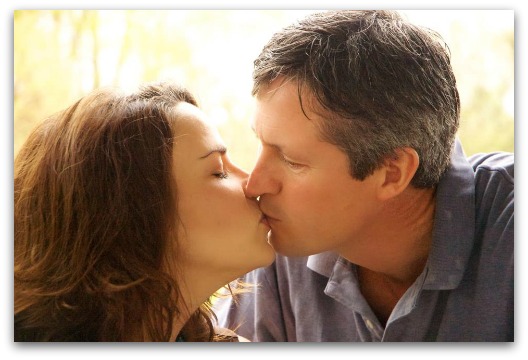 2. Don't you know what causes that?
I'm almost 40 years old. If I don't know what causes babies by now, I'm in sad shape.
My response to this comment? "Why,yes, I do. And I'm very good at it. Just ask my husband."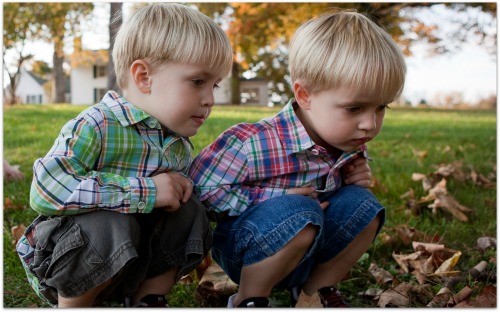 3. Are you sure there's not twins in there?
As the mother of twins, this was no longer funny the second time I heard it. And for the record, there is only one baby in there. Yes, we're sure.
4. Thank God I won't be pregnant during the summer! How AWFUL!
My friend Leanne at Life Happens When reminded me of this comment, and variations thereof. Trust me, the first thing a pregnant woman does is calculate her due date. We will certainly know without a doubt the average temperatures and humidities in our area for our due month by the time the pregnancy test turns positive. And, in an 'eat crow' moment — I've been guilty of saying this to people. Whoops! There's a dose for humility for me, since I'm due June 9th.
5. You shouldn't be eating/drinking that!
When I cruise into work drinking a Monster drink every few weeks, I hear this one. Thankfully, no one has ever passed judgement on my sushi consumption. I seriously don't think my caffeine intake is a problem – and if it is, Baby Kennedy will surely let me know. 😉
6. Any horror story about pregnancy/labor/delivery
The last thing a pregnant woman needs to hear are horrid stories about pregnancy or the world's worst labor. Please keep those comments to yourself.
7. You're having children late in life, aren't you?
I heard this one at work, and I thought another nurse friend would fall out of her chair. I'm obviously not 21, but I don't have one foot in the grave, either. Tactful conversation is an art.
8. I can't believe you're not finding out what this baby is! You're crazy!
When I was pregnant with my boys, I made a promise to my husband that we would not find out the gender of our children. There's a sense of heightened excitement to meet our baby, to learn all about him or her. Believe it or not, it's fun!
As far as planning for the baby – gender specific things really can wait until after the baby arrives.
9. Haven't you had that baby yet?
This seriously might be one of my all time 'blow my stack' comments. Obviously, if I'm walking around with a big ole belly, and no baby in sight, the answer is pretty clear. Babies come when they are ready.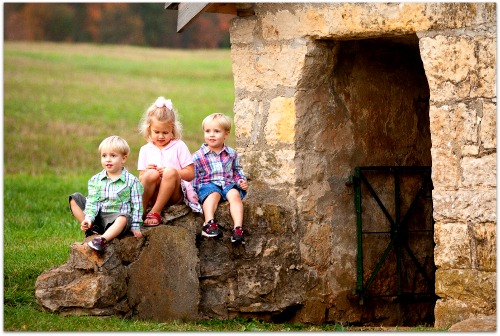 10. So you're done having kids, right?
Sigh. I get this one a lot, too, since this is baby #5. I tell people, "Have you seen my children? They're beautiful. Why waste these genes?"
My children are a blessing – from the oldest down to the tiniest. I don't have my sights set on a ginormous family, but if God blesses us with more children, I'll just ask for much more grace!
What about you? Did your least favorite make the list? Be sure and share your story in the comment box!

This post will be linked to: Top Ten Tuesdays, Works for Me Wednesday, Wordful Wednesdays, Pour My Heart Out and The Mommy Club.